… a regular nutrition series for vegans by Anastacia Sampson
A continuation of my previous article on traditional Western medicine…
Hot and moist foods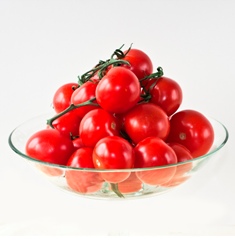 Lecithin
Green tea
Hot water
Macaroni
Wheat
Peanut butter
Castor oil
Sunflower oil
Sunflower seeds
Olive oil
In some cases of arthritis there may be an actual need to increase more hot and moist foods into the diet. The art of aromatherapy could be applied and then an oil such as peppermint can be selected for its hot and moist properties.
Allergies are generally considered to be hot and moist conditions, indicating excessive heat and moisture. In these cases, a diet high in beans and lentils among a well-balanced healthy food intake would bringe the body's health back into balance. There may be some foods on the cold and dry list that are actual allergens for the specific allergic person, which means that the allergen food is to be avoided, this may often be the situation for corn (although considered suitable as it is classified as cold and dry).
Cold and dry foods
Barley
Corn
Lentils
Beans
Peas
Balsamic vinegar
Ceylon tea
Coffee
Tomatoes
In cases of arthritis and gout, there are aching joints and a lack of sufficient healthy synovial fluid (the thin layer of fluid that lies between the ends of bones in the joints to provide sufficient lubrication and ease of movement). Often people with these problems complain that tomatoes aggravate their aches and commonly blame it on the acidity content of the fruit. This is largely true.
Yet when we begin to use this old system of medicine we notice that arthritis and other aches in the joints are often seen in the elderly, in cases where there is excessive coldness and dryness.  Note not all arthritis conditions are the same.
Tomatoes will promote coldness and dryness and thereby aggravate the ill state of health. The elderly often lack much plump skin, their skin sags and this is a result of loss of moisture beneath the skin.
People who drink coffee, literally are drying themselves out as it is cold and has a drying in effect. Coffee supports giving us an "adrenaline rush" yet also has favouritism among people aiming to shed weight. It is highly recommended that one drinks a glass of water after each cup of coffee.
Science has shown how coffee promotes potassium loss through being a diuretic. This is science showing us that coffee can cause weight loss through being a diuretic and tends to dry us out by being a diuretic. Then of course there is the caffeine in coffee that affects our nervous system, which deserves to be a topic all on its own…
Back to Hippocrates
In the era of Hippocrates, people were often classified into 4 basic temperaments. This enabled the physician to comprehend the underlining imbalance. Psychology has, and common English terminology still uses, the categories from those times. They were:
Sanguine – hot and moist – a general optimist and sociable personality
Melancholic – dry and cold – a worrier, and analytical type of person
Bilious – hot and dry – an active and assertive person with a need to be physically active
Phlegmatic – cold and moist – an introvert and more submissive type of personality
A bilious type would be angry at being kept indoors all day and would not be the type to enjoy wet rainy days spent at home reading; whereas that might be the perfect day for a phlegmatic. Indeed a phlegmatic person would benefit from incorporating some spices into their diet, whereas a bilious type might actually benefit from avoiding mustards and other hot foods.
Note these are broad generalisations to express the essential connotations and notions of this system of thought. One or two of these traits may dominate in us, once we are aware of our traits we can begin to adjust our lifestyle to create a more harmonious state of well-being.
Note this article is not intended to treat or attempt to treat any illness. It is provided for educational literature. This literature is written to inspire and promote well-being.
Take care, Anastacia
Visit Vegan SA for more information on healthy vegan diets .