Exciting new products: ways to make vegan meals easy and delicious …
… the diary of a South African vegan living in New Zealand
26 March 2012
I have just come back from a large organic shop, which is in fact a vegetarian organic shop (called: Harvest Wholefoods) across the harbour bridge from where I live. After an absence of nearly 3 months overseas to India I was over the moon to discover some new products in the store to lay my hands on.
Many of these products are available in South Africa, which I loaded up by the basketful on one of my regular trips to South Africa to visit my family. Several of these products have lots of culinary uses beyond the "spreading on bread" or "quick glass of milk to drink". Below are some of my favourite products and how I use them: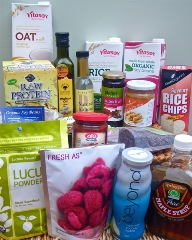 Milks: apart from the usual soy, nut and rice milks (and their various flavours), I saw oat milk and hemp milk. I've tried the quinoa milk before but was not too crazy about the taste. The soy milk that is my absolute favourite is the one imported from Australia, called Vitasoy: made from GM-free soybeans, it's organic and sweetened with pear juice and contains no unpronounceable chemicals. This soy milk is thick, like double cream so I use it in making custards (blend with a small piece of banana or mango), 'ice-creams' (blend with silken tofu or an extra big helping of your favourite nut butter, then add fruit in season) or you can sour the soy milk slightly with lemon juice or apple cider vinegar to make sour creams and yoghurt to serve with savoury dishes. To make cultured yoghurt and nut cheese, add the contents of about 5 probiotic capsules (I'll write an article about how to make this safely in a later post).
Hemp seed: Unfortunately, still sitting on the bottom shelf in my cupboard because I had a bad experience with hemp milk and did not like the taste. Now I bought the crushed seeds and thought I'll give it another try. Hemp seed is very high in protein and omega 3. One can scatter the crushed seeds over salads and blend with water to make your own hemp milk. Since the lovely, creamy white shelled hemp seeds are not available in New Zealand, the whole seed pod is crushed (so it's dark green in the packet) and sold as animal feed! Anyway, I plan to blend a few tablespoons of this with water to make a basis for a green smoothie; and any left-overs, I'll use in a salad dressing blended with lots of fresh basil to thicken it.
Chocolate: Raw cacao nibs (blend these with a banana and a nut milk in a liquidizer for a wickedly delicious smoothie), cacao butter (a wonderful natural lotion for your skin, but also great to make your raw chocolates absolutely from scratch) and unsweetened Dutch dark chocolate powder from roasted cacao beans (blend the powder with avocado, water, dash of balsamic vinegar and a tablespoon or two of maple syrup for a silky smooth luscious chocolate mousse).
Syrups: Move over maple and agave syrup – new items are now apple, pear, date, yacon syrups and coconut nectar. These are all slightly tart as well as sweet, so they give desserts an extra layer of flavour. I use very little sweetener, so what I use has to really count! The yacon and coconut ones are low GI as well. I use the syrups in Japanese dishes, in baking and to give a hint of sweetness in my kale chips.
Nut butters: ABC butter (which stands for blended almond, brazil and cashew nuts), sunflower seed and sesame seed butter, coconut butter (where the coconut meat and water were slowly blended together with a stone grinder in order not to heat the mixture, creating a silky smooth delicate butter) and pistachio butter. I have since experimented with how to make 'Nutella' – by grinding toasted hazelnuts together with dates and dark chocolate powder – delicious! – because the 'real' product in the organic shops was prohibitively expensive and too sweet.
Soy products: Tofu has come a long way. The gorgeous tofu product range from South Africa called Fry's is now also available here. The sausages, patties and nuggets have fantastic flavour, texture and look very appealing. These are great for people transitioning to a vegan diet. I discovered also some lovely smoked tofu sausages made in Germany and vacuum-packed which I keep in the cupboard for when we are invited to a BBQ or going on a multi-day hike or cycle ride.
Drinks: The day the organic shops started to stock coconut water I've been buying them by the crateful. I always buy the box of 24 (300 ml) bottles for NZ$ 90 (about R560). Apart from being a marvellous thirst quencher (replaces one's electrolytes after heavy exercise), I use the water to make my own rejuvelac and kefir. In the cooldrink line, I now and then buy pure cherry, blueberry and pomegranate juices. I don't drink juice anymore as such, but it's always great to have a small bottle of these juices at hand to make interesting vinaigrettes, to use in pancakes or thickened with agar-agar to make your own healthy jellies.
Condiments: Japanese mirin, umeboshi vinegar, ponzu sauce, miso pastes in white, red and brown (I use the white, slightly sweet paste in sweet baking and making delectable mayonnaises; the red one is good for making your own stock for soups and stews, and the brown highly fermented miso I use as a beef stock replacer mixed with Rooibos tea for when I make bean casserole dishes), coconut aminos (use it like soy sauce, but containing no soy, it's fermented and tapped from coconut trees without harming the trees – much like harvesting maple syrup).
Oils: Apart from the host of very high quality olive oils produced both in South Africa and New Zealand, there are just as delicious other oils such as avocado, hemp, macadamia, walnut (delicious in muffins), hazelnut (perfect in any chocolate baking), pumpkin seed, sesame seed and for a bit of a splurge, pistachio oil for drizzling over a special salad.
Superfoods: This is going to be my next post, but see if you can find these at organic shops: maca, lucuma, mesquite, camu camu and açai. They are high in calcium, iron and protein. I also love my 100% vanilla powder and pomegranate powders which I use in power smoothies, desserts and my morning 'yoghurts'. Irish moss is a wonderful product that one makes into a paste with water. This is handy for making desserts set, making raw 'cheese cakes' and making divine fermented nut 'cheeses'.
Raw foods: I'm quite excited about all the wonderful raw vegan foods available on the market. One product that is utterly amazing is the range of freeze-dried whole and powdered fruits. I've tried the whole raspberries, blueberries, pineapple, lychee and the mango powder. They give an incredible boost in flavour added to muffins, blended into smoothies, sprinkled over vegan 'cheesecakes' or crunched over desserts. The flavour is intense and nearly lifts you from your seat!
Having said all this, many of these products are expensive and have a lot of food miles behind them. It pays to buy local and the produce in season. I like to buy a special ingredient now and then, sometimes out of curiosity to see how many dishes I can make with it. I also derive great pleasure from making my own fruit spreads ('jams') without sugar; my own nut butters, nut milks and nut cheese; soy milk (tofu is next on the "to do" list) and rice milk; nut flours (from soaked, dehydrated nuts and seeds), energy bars, vegan biscuits and sweets.
So support your local organic shops: they're doing a great job sourcing the best available ingredients from suppliers they trust. Often these shops have notice boards where one can find out information about upcoming health-related events; yoga and pilates classes; cooking lessons; tips on gardening and ideas for creating your own vegetable patches.
Next article: a more in-depth discussion on 'superfoods' on how to use them in recipes.

Article by Laurinda Erasmus, author of BENESSERE well-being

: vegan & sugar-free eating for a healthy life-style. Quinoa Publishing.