Chasing dragon fruit
… the journal of a South African vegan in Japan by Carey Finn
2 March 2010
Seasons in Japan are more distinct, or perhaps just better noted. As South Africans (Capetonians) enjoy the last stretch of summer before the brown leaves and gusty winds of autumn, we're thawing out and enjoying the first signs of spring. The sun has been switched back on, and frostbite is no longer a risk on your way to the conbini. The plum blossoms are blooming, and hordes of Japanese – cameras, lenses, spare lenses, lens covers, tripods, spare tripods and children in tow – are jostling for position under the fragrant red, pink, white, gold and yellow blooms. This is a sure sign that spring has arrived.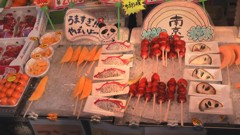 We have been stalking the plum blossoms as they open across Osaka; beginning our stakeout at Osaka Castle. There are hundreds of carefully pruned and protected trees there; making for a great view, and, it seems, a good place to sell octopus balls – the local specialty. The smell of the blossoms is somewhat overpowered by the smell of burnt, rancid oil, so we moved on to Kanbai Viewing Spot # 2: the park near our house.
I heard that the blossoms, many of which give off an intoxicating, heavenly smell, are edible. Google told me so. Technically, it's the blossoms of actual fruit plum trees that are edible … Google didn't say anything about ornamental plums – the variety found in Japan. I decided to risk a tiny shred of petal anyway, and found that they taste intensely like … well, plum. Some taste like Grape Fanta too. I survived, but I wouldn't advise tasting any random blossom – since even if it is edible (and more than just Google says so), you can't be sure what kind of 'cides have been sprayed on it.
While you don't see many people biting the flowers off the branches, in processed forms, plum blossom products are widely used in Japan, most notably in plum wine (umeshuu) and teas. The flowers have also been the inspiration for traditional tea sweets – wagashi. A famous example is Red Plum Blossom with Frost, a sweet made by a Kyoto confectioner since 1699. It symbolises the plum blossom's defiance of winter.
But enough about blossoms. This blog's supposed to be about dragon fruit. February 14th marked the beginning of celebrations for the Chinese New Year, and, being a Tiger myself, I headed to China Town in nearby Kobe to eat dragon fruit and deep-fried sweets. Luckily for me, tigers were not on the menu. Instead, there were exotic and not-so-exotic fruits, teas, dumplings (not veg), deep-fried sticky rice balls (mochi), deep-fried sweet potatoes, dipped in syrup, and many other greasy, satisfying goodies.
The mochi were rich, but tasty, filled with red bean paste inside, and coated with sesame seeds on the outside. The fresh fruit was expensive but, as you can see from the picture, fun to try. If you were ok with mouldy fruit, you could get a whole shopping bag of persimmons for ¥500. As unappetising as that sounds, naturally dried and preserved fruit (left in the 'shadows' for micro-organisms to do their work) is popular here, and once you get past the thought that you're munching mould, it's delicious!
To all the other Tigers out there, or toshi-hito, akemashite omedetou gozaimasu. May your year be filled with dragon fruit, healthy mould and mochi!
Next time: Overnight buses and hostile hostels, vegan-style.