Beautifully written and illustrated Fresh from the Vegetarian Kitchen by Mellissa Bushby is an ideal cook book for newbies, along with friends and family of vegans and vegetarians, who just don't know what to cook!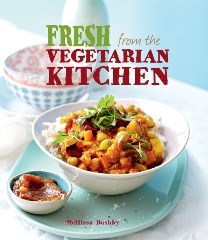 The book allows for both vegan and vegetarian options but it is not entirely vegan. Some recipes would need to be modified especially those which require Wooden Spoon butter but this could be substituted with coconut butter or vegan margarine. A great recipe book for inspiration and ideas with exquisite photography, as you flip through each page your hunger is heightened.
Mellissa Bushby's love of her family and cooking resonates throughout with some of the recipes superbly introduced with reminiscing of fall days and hungry young children; recipes that have been passed from generation to generation that cater from babies to tweens. Delightfully written, it sets a wonderful mood for an aspiring chef.
With a great selection of categories, Melissa managed to include and do a magnificent job of her Braai section, a once-feared event by most vegans, one can now quite comfortably attend knowing they will impress. One of the recipes you will not be able to resist is the kidney bean kofta kebabs. Other recipes like homemade tomato relish and chocolate coated pineapples ensure that no one is going to feel left out.
The starters and snacks are also equally impressive with chilli chickpea cakes and spicy bean balls making certain that each nibble will not only be healthy but delicious too. There is an amazing vegetable soup which takes hours to make but well worth a try. With an assortment of recipes which are quick and easy as well as long and epic, Fresh from the Vegetarian Kitchen is guaranteed to provide something fitting for any age and occasion.
Mains range from pastas to altered cottage pie and risottos which contain an outstanding rendition of ingredients using barley and leeks, in 2 separate recipes. A Thai curry and chickpea based schnitzel also make a debut amongst others, and after much dithering I decided to have a shot at the schnitzel and what fun! First I prepared the bread crumbs, grated the lemon zest and readied the herbs and spices; I didn't have sage and substituted with rosemary. After all the ingredients were blended, in the oven they went only for a few minutes and voilà – bread crumbs! Then onto the filling; I mashed butter beans, chickpeas and peas along with spices and flour and shaped the dough into schnitzel-type pieces, dipped the pieces into the breadcrumbs and fried. The final product was divine and I shared my schnitzels with friends that were equally impressed.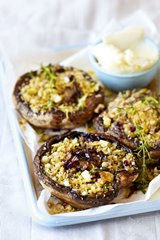 Being incapable of following any recipe to the tee, I have always modified ingredients or recipes in one way or another and didn't have the accompanying mushroom sauce which I will definitely try as soon as Pick n Pay have stock of soy cream again. I also omitted the ginger (as much as I realise it is healthy, I find ginger to be very strong and will only add it to very saucy dishes). This is another great attribute of Fresh from the Vegetarian Kitchen in that it allows for substitution and each recipe could very easily be modified to vegan or vegetarian or have a bit of a different taste; this is evident in Mellisa's braai-ed aubergine steaks recipe which have a Thai, Italian or South African inspired dressing that you can choose from. You are not going to know which recipe to start off with and will find yourself planning 3 or 5 course meals.
The baking section was a real eye opener for me having never made breads before. Melissa manages to make baking seem easy and I look forward to trying out the ciabata, focaccia and scones, but mostly her citrus tea bread recipe, as I have always loved Earl Grey tea and think it will be quite fitting in a cake.
One of the main things I love about the book is the effortless, mostly vegan sauce and condiment recipes listed at the back, everything from buttermilk to chutney, and even a vegan chocolate nut spread! Also listed are non-toxic homemade remedies, insect repellents and cleaners, which will certainly come in handy.
With the high use of sugar and white flour being my only concern about the recipe book, I plan to once again modify some recipes so that they maybe include more natural options, but for beginners and those who want to learn how to cook vegetarian and vegan food, this book is a must and for all the master chefs, Fresh From The Vegetarian Kitchen really does have some gems.
Review written by Lesleigh Harnwell