Kaldi's Coffee Shop

, Newtown, is my latest addiction in the last 14 hours – super excited to have such a place so close to where I stay for some vegan delights and African food!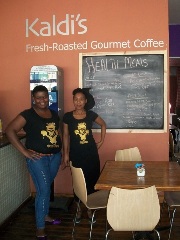 I have had pasta with red, green and yellow bell peppers, soy mince, carrots and some spices, African style yellow rice with brown lentils in a tomato and onion gravy and some sautéed beetroot leaves, 2 (YES TWO) nutty banana smoothies (SUPER SUPER AWESOME, made from muesli, soy milk and bananas), beetroot, carrot and ginger juice, and apple, carrot and lemon juice (addictive!). On top of all this I decided to order a chocolate cake with peanut frosting and waited for it to be baked. Everything was freshly made.
Thanks a lot to Mmabatho Mokwena, the creative mind and owner of Kaldi's Coffee. Mmabatho is a mother of 4 kids who she and her husband (who is also vegan) have raised their kids as vegans from pregnancy to birth to date! She is 33 years old but does not look older than 20! She is a short, bubbly, friendly, welcoming and spirited lady who has been vegan for about 12 years. She is from the Limpopo province and is Northern Sotho speaking and is actually an actress by profession.
Though her cafe has non vegan items, she is looking forward to slowly transitioning it to healthy vegan meal options. They currently do not have a set menu and prepare something different for lunch and dinner every day.
So my friends, if you stay or work around Newtown or simply want to enjoy a meal or have a snack or drink smoothie in a relaxing environment, please go to Kaldi's; refer me if you wish and try some of their vegan goodies. It is situated at 30 Jeppe Street, right opposite Museum Africa. If you would like a variety of food for a group of friends/family, arrangements can be made with prior notice. Mmabatho also runs an events and entertainment company: Matlombe.
For further information please visit their Facebook page or contact her directly on 083 757 0277 or by email: mokwenammabatho@gmail.com
Satya Bhat, 7 January 2012
Visit Vegan SA for more vegan-friendly restaurants in Jo'burg.