Welcome readers to my first blog entry.

… a regular eco-friendly feature by Terri Morris
For those who read my introduction to Vegan SA on the blog recently, one of my main reasons for going vegan is the impact on the environment of eating animals and products of animal origin. Before going vegan I thought my carbon footprint was admirable; after all I didn't eat much red meat and I went out of my way to recycle, until the day that I realised that there was so much more I could do.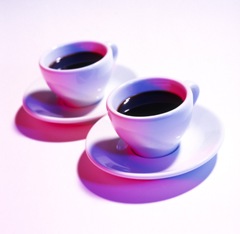 I started reading up on green living tips and read many pages of various eco websites and blogs and looked at what else I can do to be more green. While I'm not ready to live completely off the grid, I have found lots of ideas for reducing, reusing and generally being a smarter consumer so that I can walk lightly upon the Earth, and I would like very much to share these findings with you.
The first first tip I want to share is ways to reuse coffee grinds. It stems from advice my aunt shared with me years ago. She told me that pouring the grinds out in the rose beds kept the bugs away, so every morning I rinsed my plunger and swirled the grinds out into one of the rose bushes in my garden. Then one day I thought to try it on the spinach and basil that seemed to be getting eaten by insects. It worked! So now each morning the diluted leftover grinds get poured onto one of the edible herbs in my garden, which is now also mostly pest free.
This got me thinking – what else can I re-use the coffee grinds for? After a bit of research I discovered a couple of beauty secrets.
Coffee rinse to darken hair:
Needed – strong brewed coffee and a bowl.
Allow the brewed coffee to cool then wash your hair.
Turn off the water and pour the coffee through your hair with a bowl underneath to catch it.
Repeat the process several times until you achieve your desired color.
Wash and condition your hair.
This can be repeated monthly to maintain a natural dark colour.
Coffee treatment to darken hair:
When your hair is a bit dry and you want a more intense colour try this –
2 cups of leave-in conditioner (adjust according to your hair length)
2-3 Tbsp of used coffee grinds
1 cup of cold brewed coffee
Mix the above in a bowl and put it on your hair as if using "regular dye". Leave it in for 30-90 minutes, depending on how dark you would like it to go, then wash as normal.
Please note the coffee smell will almost certainly remain in your hair for a couple of days.
Coffee Cellulite Scrub
Used coffee grinds
Body wash/shower gel
Used paper coffee filter or old pantihose
Bowl
Cling wrap (ok, I know the cling wrap isn't very green but you could rinse the wrap that comes from your produce and recycle it when you are done …)
Bring all the items in to the shower; open the window as the aroma can be quite strong. Wet your skin and turn off the shower and mix a small amount of body wash with the grinds in the bowl – you may add some grapefruit oil to assist with detox if you like. Then rub the mixture into your thighs (or other affected areas) and cover yourself with some cling wrap. Then wait 10-20 minutes for the coffee to really do its thing.
I'm not convinced of the science behind this treatment but it does exfoliate and left my skin looking smoother – might be a good time to scrub the shower tiles too!
Place the filter or pantihose over the drain to catch the grinds and rinse and towel dry. Then pour the well-used grinds into your garden.
I hope that you will leave a comment below, letting me know what topics are of interest to you – what ideas you or your colleagues have heard or wondered about.
More green tips coming soon.