Organic Choice Health Shop, Centurion
Posted on 25 March 2018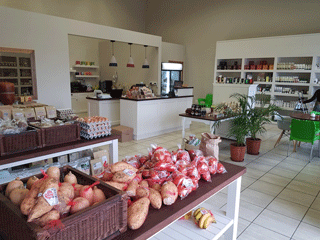 Organic Choice, of Hokaai Meat Building, Cnr Lenchen Ave North & Embankment Rd, Centurion, is an online and physical health shop dedicated to promoting clean, safe products. Their aim is to educated more people about dangers of chemicals in the daily products we use – from food and drinks to beauty, cleaning and medicines. They strive to promote sustainability, responsibility and respect to all life and our planet.
"We only stock brands with natural products and here are the ones we work with:
Antiperspirant/deodorants – Pure Beginnings, Schmidt's, The Victorian Garden
Baby Care – Enchantrix, Oh-Lief, Pure Beginnings
Bath, body, skin care – Africa Organics, Down to Earth, Enchantrix, Esse, Pure Beginnings, Pure Simple, The Victorian Garden
Cosmetics – we don't stock the brands on Vegans website, but we have Logona (Germany), Benecos (Germany) and Crazy Rumors (USA)
Dental Care – Enchantrix, Pure Beginnings + Olgani Mineral Rich Evening Toothpaste
Fragrances – not available at the moment
Hair care – Africa Organics, Enchantrix, Love My Hair, Pure Beginnings, The Victorian Garden
Home care – Better Earth, Enchantrix, Pure Simple,
Shaving products – Enchantrix, Pure Beginnings
Sun protection – we don't have any of the brand on your website. We stock Oh-Lief natural sunscreens, which are endorsed by Beauty Without Cruelty."
Opening times: Mon – Fri: 09.00h till 18.00h, Sat – 09.00h till 14.00h, Sundays and Public Holidays – closed.
Visit the Vegan SA directory for more vegan friendly shops in the Pretoria area.

Leave a Comment
You must be logged in to post a comment.