Old Mac Daddy Trailer Hotel, Grabouw
Posted on 17 March 2018
Part wholesome caravan park, part designer farm lodge, Old Mac Daddy of 112 Valley Road, Grabouw, is a new chapter in adventure, escapism and pure relaxation. Set on the pine-whispering slopes of a beautiful corner of the Elgin Valley, Old Mac Daddy offers trailer units with artist-themed bedrooms and uber-contemporary living spaces, as well as comfortable glamping style tented options, and 2 self-catering units for larger extended families of groups of friends.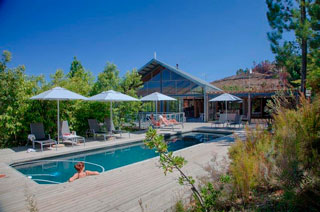 The Barn Restaurant and communal area is a slick but comfortable "Scandi-meets-SA" space to take in the views, enjoy some good food, and extensive local wine and craft beers list.
Breakfast options
Plated hot breakfast options
Soy strips, mushrooms, tomato, onion, avo
Breakfast smoothie with your choice of seasonal fruit & almond milk
Almond milk for cereals, coffees & teas
STARTERS & SALADS
Red bean & butternut soup
Chickpea summer salad
Apple summer salad
MAINS
Veggie wrap with side of your choice
Moroccan chickpea stew with basmati rice & sambals
Chickpea & corn burger Pattie with side of your choice
DESSERTS
Peanut butter blondie served with coconut & banana ice cream
Coconut sundae – Coconut & banana ice cream, cashew nuts, coconut flakes & maple syrup
Visit the Vegan SA website directory for more vegan-friendly accommodations in the Western Cape.

Leave a Comment
You must be logged in to post a comment.