BV Cosmetics
Posted on 13 March 2018
This cruelty free cosmetic disinfectant mist has been created for makeup artists and makeup enthusiasts to ensure that their makeup kits can be disinfected professionally.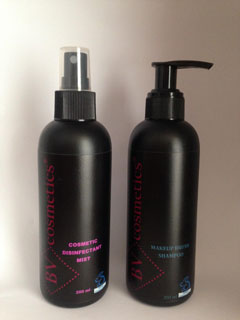 It eliminates germs from your makeup products itself such as pressed powders, eyeshadows, etc. and tools. Leaves your products and tools smelling fresh, will not harm your products. An essential in every makeup artist kit. Lab tested on bacterial organisms most commonly found on makeup products and tools. Bacterial efficacy rate of 99.99%. Products do not contain ingredients derived from animals or animal proteins and they do not test any of products on animals as they are strong believers in Beauty Without Cruelty.
BV cosmetics® makeup brush shampoo – A luxurious shampoo for makeup brushes, high foaming, with a pearl iridescent, leaves your brushes smelling great. An essential in every makeup artist kit. All products created of the highest quality and once again cruelty free.
South African makeup artists should understand the importance of sanitizing/disinfecting the makeup products and tools. Many don't realize the amount and types of germs that are passed on from product to product and product to face, all by "double dipping", using dirty fingers or tools, and all these germs are being passed onto faces, which leads to unwanted acne or styes, blisters, etc, and it literally takes just a few seconds to disinfect. Without disinfecting makeup products and tools, the bacteria just builds up, also turning products bad which means that they expire faster than normal. So not only does this help in eliminating germs but it allows your products to last longer.
For beauty that is clean and cruelty free, currently available online.
Visit the Vegan SA website directory for more vegan cosmetic products in South Africa.

Leave a Comment
You must be logged in to post a comment.