Bonafide Beards and Faces
Posted on 1 March 2018
Bonafide Beards offer South Africa the only complete beard grooming range in the country. Their products are handcrafted using all natural, organic & Mother Nature's finest ingredients to treat, tame & nourish your mane.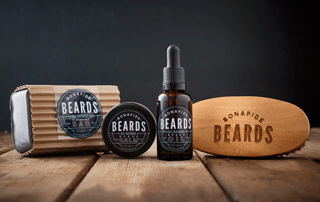 Bonafide Beards Beard Grooming Range:
1. Vegan Beard Balm – made with vegetable wax (carnauba) instead of beeswax,
2. Beard Oil – Made with carrier and essential oils,
3. Cleaning Bars – chemical free, made with clay and coconut oil,
4. Synthetic beard brush – contains no boar hair,
5. Bonafide Black Cologne for men.
Bonafide Faces Shaving Range:
1. Oil – made with carrier and essential oils,
2. Aftershave Balm – especially formulated for sensitive skin,
3. Synthetic shaving brush – contains no badger hair.
Products are currently available from:
Gauteng – Bonafide Barbers – Parkhurst, Studio 9 – Melrose Arch, Mo's Barber – Pretoria, Barber on Aspen – Aspen, The Real Barber – Bedfordview, Funki Hair – Edenglen, Puff & Groom – Muldersdrift.
Cape Town – Barnet Fair – Bree Street, Shortmarket Street, Harrington Street.
Visit the Vegan SA website directory for more vegan-friendly shaving products in South Africa.

Leave a Comment
You must be logged in to post a comment.