Soma Almond Milk and vegan Cold Brew Coffee Lattes
Posted on 11 February 2018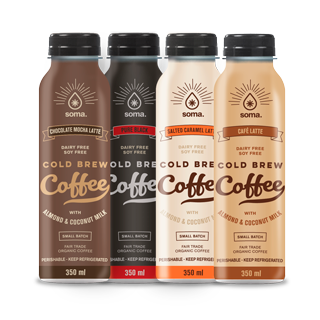 Soma specialises in "Clean-Label", plant-based beverages. The ever-expanding product range includes almond milk, and vegan Cold Brew Coffee Lattes, made with organic Fair Trade coffee, imported organic coconut milk, and home-made almond milk. Products are crafted in small batches, in a custom built food-safe facility in the Muizenberg area of Cape Town.
Soma uses NO: Gluten, Soy, Cane Sugar, Artificial Preservatives, Xanthan Gum, Carrageenan, or animal products in any of their drinks. It's just real, guilt-free, "Plant-Powered" magic!
All products are free from, Gluten and Lactose.
Available at Wellness Warehouse, select Spars, local premium health shops and delis, and coffee shops. For a complete listing of where to buy, visit their website
Visit the Vegan SA website directory for more vegan milks and related drinks in South Africa.

Leave a Comment
You must be logged in to post a comment.