Guinness switches to vegan
Posted on 3 February 2018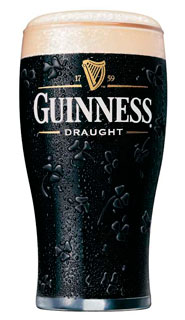 Arthur Guinness travelled to Dublin in 1759, where he signed a 9,000-year lease on a dilapidated brewery at St. James's Gate, which is still used today. This world famous Irish Stout is enjoyed in over 150 countries around the world. It is made from malted and roasted barley, heated water from Country Wicklow, yeast and hops… and that's all!.
"Our new state-of-the-art filtration process has removed the use of isinglass as a means of filtration and vegans can now enjoy a pint of Guinness Draught, whether from the keg, bottle or from a can… Guinness Original, Guinness Extra Stout and Guinness Foreign Extra Stout are now suitable for vegans thanks to our new filtration system."
"All Guinness draught and Original XX produced in St. James's Gate Brewery for bottle, can and keg format is now brewed without using isinglass to filter the beer and vegans can now enjoy a pint of Guinness."
If you're worried about getting an older version of the product:
"Locate the lot number on the cans or bottle. The lot code you would look for is any date after L7300. The lot code will be listed as a number starting with L followed by four numbers, such as L7300, with additional digits. This would be the 27th of October, of 2017. In this example the first 7 is 2017, and the 300 is the 27th of October using the Julian date calendar."
Available at most liquour stores throughout the country.
Visit the Vegan SA directory for more vegan beers available in South Africa.

Leave a Comment
You must be logged in to post a comment.