Soya Rama faux meats
Posted on 11 December 2017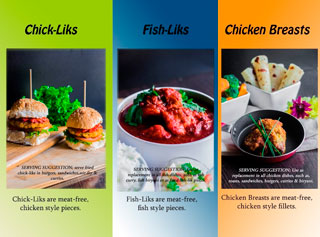 A delicious and wholesome meat-free range with an Asian blend of spices. The Soya Rama range includes meat-free chicken style pieces, fish style pieces and chicken breasts.
Their combination of spices bring the fusion of Asian flavours into their meat-free product range. All products are meat-free, healthy and are suitable for vegans and vegetarians. Products are also free from onions, garlic, preservatives, artificial colours, antibiotics, hormones, cholesterol and trans-fats.
Soya Rama prides itself on products rich in Asian flavours, aromatic spice and texture. It is committed to manufacturing products of high quality and adheres to the conscious vegetarian, vegan, and the environmentally conscious.
Visit the Vegan SA website directory for more vegan meat substitute choices in South Africa.

Leave a Comment
You must be logged in to post a comment.