Blue Bird Cafe, Cape Town
Posted on 4 November 2017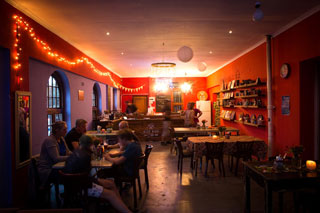 Blue Bird Café at 39 Albertyn Road, Muizenberg, in collaboration with Ragamuffin Food is open from Saturday through Thursday from 4 pm to 9 pm. This cozy restaurant offers a variety of food from burgers, pizzas, curries, wraps, salads, potjies and more. Daily specials are available on the boards in the restaurant. Their bar includes a large selection of local craft beer on tap, wine, spirits, cool drinks and kombucha.
Vegan options include: Onion bhaji with mild indian spices, Butternut and beetroot salad, Ethiopian red lentil curry, Chinese crispy tofu, Brinjal, chickpea and garlic potjie, Falafel burger, Paratha with banana 'ice cream' caramel sauce and sesame seeds.
OPENING TIMES:
SATURDAY – THURSDAY: 4:00 PM – 9:00 PM
Visit the Vegan SA directory for more vegan-friendly cafes in Cape Town.

Leave a Comment
You must be logged in to post a comment.