Vita AID mousse and protein shake
Posted on 30 September 2017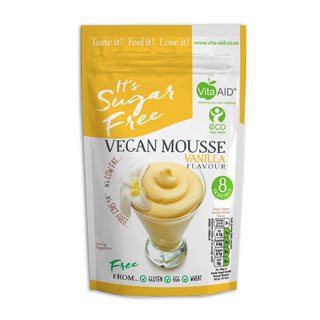 Vita-Aid Vegan Mousse is a clean label, sugar free, quality product made from all-natural, gluten-free ingredients. It is available in 2 delicious flavours, Cocoa 160g and Vanilla 135g. It is light, low fat, vegan, low salt, high in fibre and is gluten free. The Vita-Aid Vegan Mousse is easy to put together, and gives you the choice of preparing either vegan or vegetarian mousse.
Vita-Aid™ Vegan Protein Shake with organic maca is a blend with brown rice protein, beet fibre and maca powder. It is free from animal by-products, gluten free, contains no soya protein and is non-GMO. Rice protein powder contains high amounts of several essential amino acids and is a hypoallergenic source of supplemental protein. Maca powder is an adaptogen so it adjusts to your body's metabolism, working with your body for optimum results. Maca assists with building the immune system, increasing energy levels, athletic performance and memory. It has relatively high amounts of absorbable plant-based nutrients, including protein, fibre, calcium and magnesium. Vita-Aid™ Vegan Protein Shake with Organic Maca is ideal for adding to your breakfast, lunch or dinner smoothie. Vita-Aid™ Vegan Protein Shake is available in two flavours, Vanilla (300g & 600g) and Chocolate (300g & 600g).
Available in South Africa in November 2017.
Visit the Vegan SA website directory for more vegan food choices in SA.

Leave a Comment
You must be logged in to post a comment.