Green Vine Eatery, Cape Town
Posted on 3 September 2017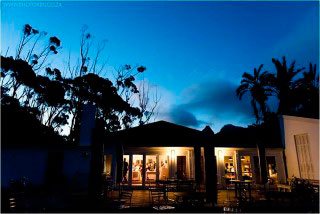 Green Vine is located on the beautiful Silvermist Organic Wine Estate on Constantia Nek, surrounded by spectacular views, natural timber decks, rolling lawns, and the 12 Apostles mountain range. Open daily for delicious locally sourced food and wine tasting.
Vegan options include: Flatbreads, Vegetable Parcels, Garden Salad, Rocket Bowl, Forest Pizza with dairy-free cheese, Woodlands Pizza (no cheese), Breakfast Forest Pizza with dairy-free cheese, The Constantia (Potato rosti with avo, mushrooms, herb pesto), Oh So Boho (Quinoa, seeds, rocket, roast veggies with herb pesto), Vegetables Parcels (Seasonal Veggie Spring Rolls & Bean Balls, Served with Homemade Beetroot Chutney), Roasted Aubergine served on a wrap or farm bread, Sides such as sweet potato fries, skinny fries, onion rings, caramelized onions, and marinated olives. Almond milk available.
Their new chef is currently working on a vegan friendly dessert menu. The Silvermist Organic Wine is vegan friendly.
Open daily for breakfast & all day delicious food.
Visit the Vegan SA directory for more vegan-friendly restaurants in Cape Town.

Leave a Comment
You must be logged in to post a comment.