Review: The Detox Juice Bar
Posted on 20 August 2017
A review of The Detox Juice Bar, Cape Town …
Situated in the colorful Bo-Kaap in Cape Town, Detox Juice Bar serves an array of delicious, organic, cold pressed juices and superfood smoothies to tantalize your taste buds while giving your body the health kick it deserves. They also have a small selection of healthy and vegan friendly snacks on display.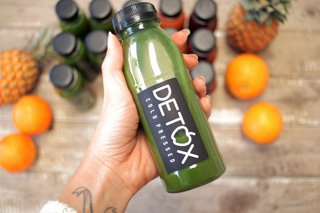 Over the winter I have been feasting on delicious vegan foods and indulging a little more than I should have. So I decided to do a 3 day Juice fast to give my body a Spring Clean so to speak. This was my experience:
Pre Cleanse: Detox Juice Bar recommends cleaning up your diet at least 3 days prior to your cleanse. Cutting back on the caffeine and alcohol is a good idea.
Day 1: In the 3 day juice cleanse you receive 5 bottles of juice per day 300 ml each. There are 3 flavours to choose from – green, red and orange. The green juice or "Lamborgreenie" contains spinach, kale, apple, celery, Himalayan sea salt and Cayenne pepper. It's a little spicy and tastes like green apples. The Red or "Heartbeet" contains beetroot, cucumber, mint, carrot, apple and aloe vera. This is a lovely sweet and refreshing juice. The orange "Ginger Rabbit" ingredients include carrots, ginger, orange, lime and turmeric. This one also has a kick thanks to the spicy ginger.
The first day took some getting used to. Having to drink all my meals, I wasn't sure which juice to drink first or in what order and how much time I needed to wait between juices. They all tasted great though and I didn't feel hungry at all.
Day 2: The morning of day 2, I stepped on the scale for interest sake and I had lost 1 kg. I felt really light and energized, I even went for a walk, but all that changed in the afternoon when my energy dipped and I started experiencing the dreaded detox symptoms. Fatigue started to set in, I felt agitated and achy. My head started to hurt and I felt a little dizzy when standing up. I also started cravings solid food at this time and I was beginning to fantasize about all the delicious fruit I was going to devour after my fast ends. This was definitely the hardest day for me.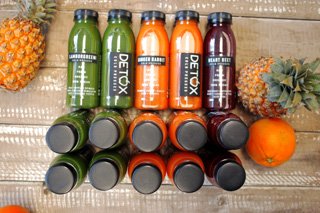 Day 3: Just like the previous day, I felt energized upon waking, but I still had a pounding headache and I felt like my body was trying to preserve energy. By mid day the energy slump hit again and I was starting to feel hungry. That night I decided to break my fast early and ate a few pieces of fruit with my last juice.
Post Cleanse: It is important to ease into eating solid food again. It is recommended that you maintain a healthy diet after you cleanse and not to devour everything you have been craving over the last few days, that would just render your whole juice cleanse useless. Use this time to slowly re introduce easy to digest foods like juicy fruits and smoothies and then move on to other whole plant foods. It will be a good time to notice if you have any reactions when introducing a specific food type and you might be able to pin point a food allergy this way.
Conclusion: I would recommend doing a juice cleanse for those who want to rid their body of toxins and give your digestion a break so that your body has time to heal itself. If you have digestive or allergic issues and want to find out what the cause is, a juice fast can be useful prior to an elimination type diet. I would not recommend it for quick weight loss, but it can be a great kick start to a healthy eating plan. I would also recommend adding a smoothie to your daily juice feast especially if you are going to be active during your cleanse.
The 3 day cleanse will cost you R599. They also offer a 5 and 7 day cleanse. To find out more: www.detoxjuicesa.com

.
Reviewed by Gabby Correia – Vegan SA

Leave a Comment
You must be logged in to post a comment.