Massimo's of Hout Bay
Posted on 29 August 2017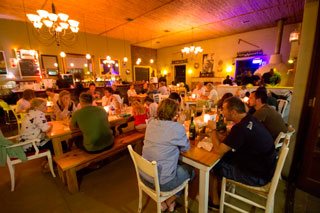 A family establishment at Oakhurst Farm Park, Main Road, run by Massimo (from Piemonte, northern Italy) and Tracy, his English wife. They are driven by a passion for good, wholesome food, sourced ethically where possible. Their aim is to leave a small footprint, so they recycle and re-use extensively. Their menu contains many initiatives supporting the local community, and customers are invited to 'pay it forward' by buying a virtual slice of pizza for someone in need.
They aim to provide a menu that demonstrates there are many Italian vegan choices without having to go too far from traditional foods. The separate vegan menu offers an array of tapas, pizzas, pastas, salads, and a chocolate ice-cream and sauce for dessert.
Open lunch and dinner, 7 days per week.
Visit the Vegan SA directory for more vegan-friendly restaurants in the Cape Peninsula.

Leave a Comment
You must be logged in to post a comment.