I am Superbar
Posted on 20 August 2017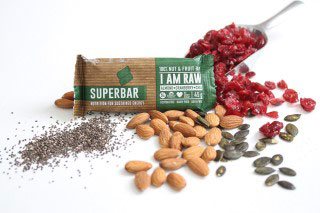 Superbar is a raw and wholefood product range of health bars with no artificial additives and a great source of protein and fibre. They taste great and are gluten, wheat and soy free. Just as nature intended, these bars are simple, raw and packed with super foods. Superbar is a complete, healthy snack that will nourish and sustain you whether you are working out or on the go.
These 100% nut and fruit bars come in 2 delicious flavours "I am Raw"(almond, cranberry and chia) and "I am Training" (cashews, cacao and Gojiberries).
Available online and at Checkers, Wellness Warehouse, Spar, PnP, Bootleggers Coffee Company, OuMeul Bakkery and various other health and sports stores.
Visit the Vegan SA website directory for more South African snack bars.

Leave a Comment
You must be logged in to post a comment.