Adlife Soya Products
Posted on 5 August 2017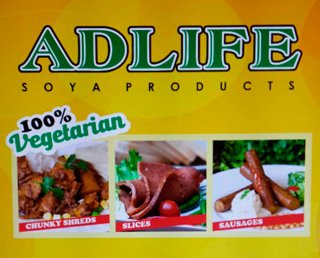 Adlife Vegetarian Food is a producer of 13 types of vegan products converted from a combination of soy isolate, gluten and spices. These include shreds, sandwich slices, Burger patties, sausages, stir fry strips and mince. They are free from onion and garlic ingredients for those who are following a strict spiritual path. Also free from any added sugar, no artificial sweeteners and the like as well.
Available from Spice Emporium – Durban, Manilal Ratanjee – Durban, Tommy's Vegetarian Food – Durban, Hypersinghs – Umzinto, Johannesburg – various outlets.
Visit the Vegan SA website directory for more veggie burger options in South Africa.

Leave a Comment
You must be logged in to post a comment.