Waterkloof Wine Estate
Posted on 20 July 2017
Waterkloof – A transcendent Sauvignon Blanc
Defined by a special place and happens to be made of Sauvignon Blanc. The flagship Waterkloof range, which currently consists of only one wine, epitomises their decade-long goal of producing honest, inimitable and truly fine wines.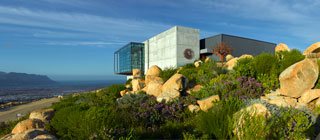 Circle of Life – Waterkloof's message in a bottle
Circle of Life tells the story of Waterkloof: A conventionally farmed vineyard with vast, untapped potential which, over 10 years, was transformed by Christiaan Loots into a living, breathing, biodynamic farm that is now revealing its true self in the wines.
Circumstance – The French call them 'vins de terroir', Waterkloof call them 'wines of circumstance'
At Waterkloof they make honest wines that are true to the unique place in which the grapes are grown. Each of the single varietal wines in the Circumstance range is defined by the unique circumstances that influence the chosen varietal and vineyard block on Waterkloof.
Seriously Cool – Drink them cool but take them seriously
Waterkloof is serious when it comes to the potential of South Africa's 'work-horse' grapes, when expressed through seriously old vines, planted in cool, coastal vineyard sites. Seriously Cool Chenin and Cinsault both hail from some of the oldest vineyards (planted in the 1970's) in the cool, coastal Helderberg area of Stellenbosch.
Peacock Wild Ferment – Proudly Stellenbosch, made the Waterkloof way.
When making wines the Waterkloof way, mature and naturally balanced vineyards are a must. Stellenbosch, but in particular, the cooler, coastal areas of the Schapenberg and Helderberg have these in abundance. The Peacock Wild Ferment range is a collection of earlier drinking, yet refined wines, crafted from small vineyard parcels, which are carefully selected by Nadia Barnard and enriched with grapes from Waterkloof. Named after the brightly plumed birds conspicuous in and around our biodynamic vineyards, this muster of Peacocks covers 6 single-varietal wines.
No animal products are used in the making of their wines.
Visit the Vegan SA website for more vegan wines from South Africa.

Leave a Comment
You must be logged in to post a comment.