Review: Health Connection Wholefoods Vegan Cereals
Posted on 19 July 2017
A review of Health Connection Wholefoods vegan cereals …
Health Connection Wholefoods produce a wide range of speciality health foods, available in leading retailers, speciality health shops and online on their website. They have launched 2 new health cereals suitable for vegans and I had the opportunity to review them.
Firstly, I must admit that I am not a breakfast person. Recently, as part of my mid-year resolution, I decided that I would begin my day 'the right way' by introducing breakfast as part of my daily routine. The timing could not have been more perfect when Health Connection Wholefoods launched the new breakfast cereals. I jumped at the opportunity to review them as I absolutely love their other health products.
Cacao Quinoa and Sprouted Buckwheat Cereal (300g)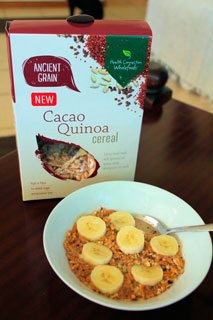 The new cereals contain sprouted quinoa and sprouted buckwheat, respectively. There has been quite a bit of hype around sprouting recently, so I decided to do a little research of my own and find out what all the fuss was about. Recent evidence shows that sprouting increases the health benefits of seeds and grains by increasing essential nutrients. Sprouting also improves the bioavailability of nutrients making it easier for your body to absorb.
Cacao Quinoa Cereal: This super nutritious cereal is made with sprouted red quinoa, cacao, raisins, wholegrains and seeds. It is naturally high in fibre and is also preservative free. Quinoa is high in protein and is one of the few plant foods that contain all 9 essential amino acids. It also contains magnesium, iron, B-vitamins, potassium, calcium and fibre.
Sprouted Buckwheat Cereal: This brain-boosting superfood cereal is made with sprouted buckwheat, rolled oats, wholegrains and dried fruit, including goji berries.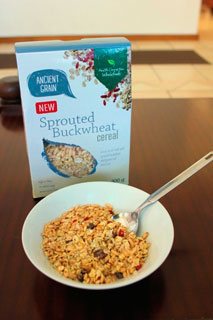 Apparently, buckwheat becomes packed with live enzymes and vital nutrients when sprouted. Sprouted buckwheat is an amazing superfood because it is one of the most complete sources of protein on the planet, containing all essential amino acids. It also contains all the B vitamins, is rich in lecithin, iron, calcium and contains co-enzyme Q10. It is known to lower high blood pressure, balance cholesterol and aids in alkalizing the body.
I am generally not a fan of breakfast cereals so through a series of trial and error I finally discovered my favourite way to eat these. I normally use unsweetened almond milk, but as these cereals have no added sugar, I found that I needed a little extra something sweet. So I opted to add sweetened soya milk (warmed) with some chopped bananas and it was a great combination. I am sure there are many other creative ways to enjoy these cereals.
As vegans, we need to be a bit more aware of our nutrient intake, making sure we are eating the right balance of nutritious foods. I would say this is the perfect start to the day for anyone who takes their health seriously. Though eating breakfast has always proved to be quite a challenge for me, it certainly has been a whole lot more tempting thanks to Health Connection Wholefoods amazing new breakfast cereals.
Order yours today: www.health-connection.co.za

.
Reviewed by Samantha Jooste – Vegan SA

Leave a Comment
You must be logged in to post a comment.