Good Food & Co, Franschhoek
Posted on 19 June 2017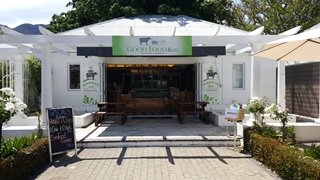 Situated on Franschhoek's busy Main Road, this courtyard location is the perfect perch for observing the hustle and bustle of village life. Sisters, Joey and Emmarentia, have created an inviting and friendly food place. Their meals are simple, tasty and pocket-friendly. Whether you are vegan, vegetarian, banting, gluten free or simply health concious, you are bound to find something on their extensive menu.
Good Food & Co options:
Breakfast: The Kickstarter (specify vegan) – muesli, soya yoghurt, mixed fruit and replace the honey with maple flavoured syrup. Soya, rice and almond milk available.
Niblets: Bruchetta: French loaf topped with basil, tomato and garlic; Big Easy: Black mushroom topped with onions, creamy spinach and garlic.
Salads: Simple Salad: Beetroot, butternut, strawberries, avo, tomato, cucumber,salad greens, rocket, hummus, citrus balsamic dressing; Power Salad: Mixed leaves (spinach, lettuce, rocket), sprouts, avo, nuts, seeds, beetroot, dried cranberries, tomatoes, citrus balsamic dressing.
Topless Sandwich: Grilled Black mushroom, sundried tomato, avo, hummus. Mains: Vegan veg lasagne, vegan Indian and Malay vegetable curries; new vegan burger coming soon! Dessert: Vegan pancakes.
Visit the Vegan SA directory for more vegan-friendly dining in the Western Cape.

Leave a Comment
You must be logged in to post a comment.