Pack a Punch in Knysna
Posted on 18 May 2017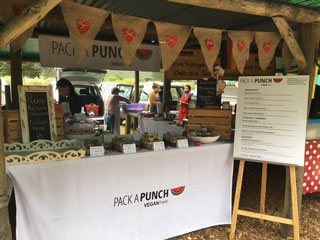 Visit their Vegan Food Stall, Pack a Punch, at the Wild Oats Market in Sedgefied every Saturday morning from 08:00-12:00 for the best vegan food on the Garden Route! From Breakfast Parfait's, Breakfast Burrito's, Pumpkin Spiced Pancakes, Bunless Burgers, Curries, Dahl, Bolognese, Lasagne, Coconut Yoghurt, Creamy Nut Cheeses to Cheesecakes, Ice-Cream & Chocolate Fudge!
Pack a Punch is a family business, founded in 2017 in Knysna and is focussed on delivering 100% vegan food to their customers. You can find us at the Wild Oats Market, or alternatively, you can order online on their website and collect from collection points in Knysna, George and Plettenberg Bay.
Visit the Vegan SA directory for more vegan-friendly dining in the Western Cape.

Leave a Comment
You must be logged in to post a comment.