Vondeling Wines
Posted on 29 April 2017
Vondeling, meaning 'foundling', lies on the slopes of the unspoilt and undiscovered Paardeberg mountain, approximately 45 minutes' drive from Cape Town. It was granted to Swedish immigrant Oloff Bergh in 1704 when a three-centuries-old winemaking tradition began. Today, an environmentally sensitive approach to farming and minimal intervention during the winemaking process ensure wine with a distinct fingerprint of origin. Vondeling's flagship wines, Vondeling Babiana and Vondeling Erica, are named after rare species of fynbos that are endemic to the Paardeberg mountain.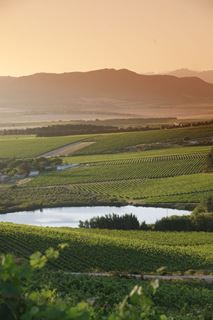 The Vondeling wine tasting room and function venue is situated on a gentle slope so that visitors can enjoy the expansive views of the Paardeberg and surrounding countryside. Pre-book a generous farm-style Vintner's Platter or contact them to arrange specific catering requirements for your corporate or family event.
Complete with thatch roof, high steeple, stained glass windows and church bells, St. Clement's will make a wedding in the winelands unforgettable. The chapel is conveniently situated alongside the tasting room and surrounded by rolling lawns, a charming garden, vineyards and spectacular views of the Paardeberg and surrounding countryside. Wedding receptions can be hosted in the function venue, which offers minimalistic elegance with a touch of Cape country style. In winter, a roaring fireplace will keep you and your guests warm and cosy. In summer, receptions can be hosted on the shaded veranda or on the rolling lawns under a marquis or billowing white linen shade cloth.
The Farm House comprises 7 en-suite bedrooms, which are luxuriously appointed and extremely comfortable. Other areas of the house include a fully equipped kitchen, dining and sitting room with a cosy fireplace. The Farm House has 2 extremely efficient housekeepers and a wonderful chef who will do as much – or as little – as you require. Surrounding The Farm House are peaceful gardens with delightful shaded terraces, a 20- metre swimming pool, BBQ area and spot-lit tennis court. The Farm House is available to rent subject to availability.
Visit the Vegan SA website direcory for more South African vegan wines.

Leave a Comment
You must be logged in to post a comment.