Col'Cacchio Pizzeria
Posted on 21 April 2017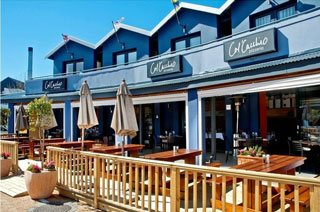 Established in 1992, Col'Cacchio pizzeria is an elegant Italian pizzeria that boasts over 30 restaurants nationwide. They promise patrons a dining experience of choice, health, fun and good quality Italian-inspired food, including crisp, thin-based artisanal wood-fired pizzas and a variety of freshly prepared salads and pastas. They aim to serve their customers the best handmade meals, crafted using the finest sourced produce.
Vegan options: Salad: Spiroco. Pizza: Vegan Margherita, Lazio, Bianca. Dessert: Amistoso. Pasta: Pomodoro (spaghetti, penne, linguini and zucchetti are egg free). Add a vegan pumpkin seed pesto and/or any vegetables as extras. You can also build your own pizza or salad using a variety of fresh ingredients.
Various restaurants in and around Cape Town, Hermanus, Paarl, Stellenbosch, Knysna, Johannesburg, Port Elizabeth, Pretoria, Durban, Randburg, Sandton, Midrand.
Visit the Vegan SA website directory for more vegan-friendly dining in South Africa.

Leave a Comment
You must be logged in to post a comment.