Bean Around Randburg?
Posted on 9 March 2017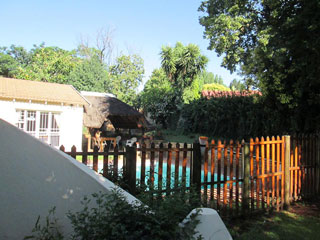 Bean Around is a B&B establishment at 47 Aries Ave, Sundowner, Randburg, Johannesburg, catering for vegans and they are fellow vegans!
They are conveniently located about 15-20 minutes away from other restaurants that offer vegan options. They do not allow guests to cook meat and fish in the kitchen and they provide separate facilities for reheating take-outs that contain meat or fish, as well as a separate fridge. If you are looking for vegan friendly accommodation, Bean Around is the place for you.
Breakfast:
Coffee and tea are free with every meal (and at any other time). Served with soya milk; almond or oat milk can be provided if you request in advance.
1. ON THE GO
Toast with humus, veez (vegan cheese) or marmalade. Fruit.
2. GRAB 'N RUN
Cereal: cornflakes, muesli or porridge (oats, mabella or maize). Yogurt (soy & cashew-based). Toast with veez, hummus or marmalade. Fruit.
3. AT YOUR LEISURE
Patty (lentil & oats or Fry's) or 2 Fry's sausages or tofu scramble. Hash browns or latkes, or toast with hummus. Fried tomato, onion and optional banana. Fruit and yoghurt.
LIGHT LUNCH or SUPPER
1. Patty or Fry's schnitzel or sausages. Baked beans or creamed corn or rice. Steamed mixed veg. Fruit.
2. Quinoa salad (quinoa with finely chopped veg and onion). Green salad (lettuce, olives, cucumber, tomato, sprouts, greens – all as available). Hummus, veez or vegan mayo.
DINNER R100
Share your preferences and food sensitivities and they will prepare you a dish depending on what foods are in stock. Typical meals are –
1. Lasagne (lentils, soya, veg, white or cheesy sauce)
2. Macaroni veez and veg (cashew-based cheesy sauce)
3. Veg stew and rice (with soya chunks, Fry's chunky strips, or chickpeas)
4. Oven bake: tofu strips, baked potato chips, baked veg
5. Bobotie (e.g. butternut, lentils, soya mince) and rice, or cottage pie, with baked veg
6. Pies (spinach & mushroom, curried veg, soya mince, or butternut)
7. Creamy dhal and rice with baked veg
8. Homemade pizza deluxe (cashew-based veez and toppings to choose from)
9. Stir fry or patha with rice or baked chips
10. Pilaff and veg
Visit the Vegan SA directory for more vegan-friendly accommodation in the Overberg.