Awesome Earth Bags
Posted on 25 March 2017
In a world where we're inundated with mass-produced made-in-China products, it's becoming more and more rare to find something that is genuinely unique, individual and full-to-the-brim with good karma.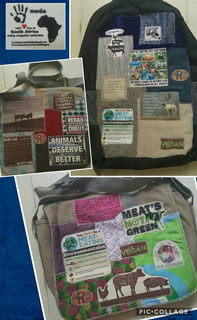 But we have found Earth Bags. And they are awesome!
Earth Bags are beautiful one-of-a-kind bags handmade with love in Jo'burg. All the bags are perfectly imperfect, sewn with recycled, reused and remnant fabrics by previously disadvantaged tailors using the principles of Fair Trade. Sewn onto the patchwork are messages that create awareness of real issues facing our planet, the plight of animals, or just to inspire people.
These amazing bags are incredible conversation starters, as well as being works of art.
Earth Bags donates to various charities with all bag sales, including Greenpeace, Blood Lions, Saints Animal Charity Shop, and Spaniel Welfare. They also do bespoke orders, using people's own photos, pictures and messages.
Earth Bags are delightfully original and a beautiful show to the world of your conscious decision to care for our world and her animals. Go check them out on facebook at www.facebook.com/earthbagssa

or email Barbara at unique.earth.bags@gmail.com.