The Red Herring
Posted on 21 February 2017
The Red Herring of Noordhoek (cnr Beach and Pine roads) caters to all. There are 3 unique areas: the bar and deck upstairs with the best views to enjoy sundowners; the restaurant which boasts a massive fireplace, perfect for those chilly winter nights; and the courtyard, a great area for families, right next to the rustic jungle gym. They have a dedicated local craft beer bar, and are dog friendly.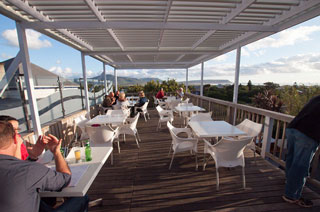 Vegan options include:
Starters:
Marinated Olives | R 32.00
Butternut Spring Rolls with plum dipping sauce| R 32.00
Red Pepper Hummus with toasted ciabatta | R 32.00
Vegan's Choice Pizza | R 69.00
Asian Noodle Goodness | R79
with peppers, baby corn, mangetout, mushrooms, spinach, and toasted sesame seeds
(swap the egg noodles for vermicelli noodles to make this a great vegan dish)
Stuffed Mushroom | R79
with sun-dried tomato, spinach, onion and feta, topped with a sprinkling of grated Parmesan
(OR drop feta and parmesan and add our vegan béchamel and basil pesto sauce and crispy breadcrumbs)
Roasted Veg and Couscous Salad | R69
roasted vegetables, basil, and pine nuts
Country Salad | R69
tomato chunks, onion, cucumber, green pepper, and Kalamata olives (swap the feta for)
Roasted Butternut and Beetroot Salad | R61
with a mixed leaf salad, roasted beetroot, butternut, and pumpkin seeds
Funky Fungi | R92
crumbed mushroom burger with mushroom sauce, mozzarella, and basil pesto served in a sesame seed bun (OR drop the mozzarella and add our vegan Welsh rarebit)
Red Thai Vegetable Curry | R98
with jasmine rice and a garlic and herb flat bread
Persian Jewelled Rice | R69
with roasted veg
Side Dishes | R25 Chips, onion rings, side salad, side veg, couscous, Jasmine rice, sweet potato fries
Tel.: +27 21 789 1783
Visit the Vegan SA directory for more vegan-friendly restaurants in Cape Town.