Review: A Short Guide to Veganism
Posted on 5 December 2016
A review of A Short Guide to Veganism by Vivian Penelope Alvez…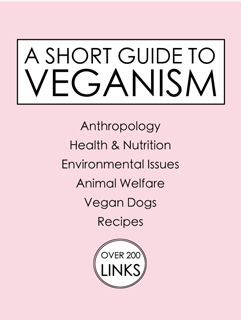 I received a copy of the book via download from Payhip. I had volunteered to review the book because I thought "A Short guide to Veganism" sounds like a short, quick read and should be quick to review.
I was wrong.
The title is a bit of a misnomer as this is more than a short guide – it is approximately 208 pages all about veganism. Granted, 33 pages of those are recipes and tips and tricks for the new vegan, it is still a pretty comprehensive book.
That said, it is by no means a slog to get through – I found it easy to read (being written in a conversational tone) with just enough information being provided to entice the new or interested convert to investigate veganism further. This is amply aided by a multitude of links and references for further reading.
Each section is brief and concise with a major emphasis on health issues as opposed to environmental or animal welfare issues. These issues are covered but not in as much detail as the health issues surrounding the consumption of animal products.
My view is that this is not an authoritative guide (and it certainly doesn't purport to be) but rather a well-written and concise introduction to the world of veganism and definitely has a place as a guide for newer vegans who inevitably need to defend their newly chosen lifestyles and for activists needing literature that they can pass on to people interested in the vegan movement.
Available worldwide for $10 at Payhip (no registration needed).
Reviewed by Rino Nepgen – Vegan SA