The power of peanuts
Posted on 9 September 2016
Peanuts are considered a popular staple snack items. Whether you enjoy them raw, or on fresh bread, peanuts have more to offer than just a delicious taste.
While high in calories, raw peanuts are best known for their heart benefits due to their high levels of monounsaturated fats. Some studies have shown that diets high in monounsaturated fats decrease the risk of cardiovascular disease

by as much as 21%.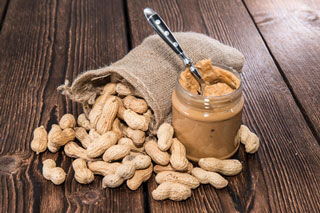 Peanuts have also been found to contain as many antioxidants as some fruits, as well as oleic acid and polyphenols. Other benefits offered by peanuts include reduced risk for cancer, gallstone prevention, decreased risk for alzheimer's disease, lower weight gain risk, and cholesterol reduction.
For those that choose to consume peanuts in the form of irresistible peanut butter, there are a few things to watch out for. Companies like Jif and Skippy fill the peanut butter with added fats and preservatives. Consuming products that have loads of additives and preservatives can become detrimental to one's health. For that reason, many peanut butter lovers have steered towards using more healthy and organic forms of peanut butters.
Making your own peanut butter at home is as easy as having some dry roasted peanuts on hand as well as a food processor. While it may take a few tries to get the exact variety of peanut butter you like, you can customize your own recipe with the addition of honey, cane sugar, and/or salt and know your freshly made peanut butter is preservative free.
If you're not quite the DIY type, many companies have already done the job for you with a wide variety of nut butters ready to purchase at your local grocery store or online. Many of these organic and natural products contain up to 85% less fat than your standard off-the-shelf peanut butters.
You can also try protein peanut butter or whey peanut butter if you're looking for a bit of a fitness boost in your savory spread. Peanut butter is an excellent source of protein

for your muscle building goals and also a very affordable option.
The leader in the natural nut butters field in the USA is without a doubt Nuts 'n More. Their appearance on the hit TV show Shark Tank

opened America's eyes to the many benefits of all natural and all organic peanut butters. In addition to a wide variety of peanut butters, they also offer almond butter which is packed with whey proteins as well as flax. For those looking for something a little sweeter, they also have a cookie butter spread, still packed with proteins as are all their nut spreads. Nuts 'N more offers so many different flavors there is a healthy, natural option for even the pickiest of eaters.
Final Thought
Before you purchase your next jar of peanut butter, take a moment to remember what you gain (proteins, longer lasting, more natural taste) and what you lose (extra fats, added calories, and preservatives) when choosing a peanut butter. Remember, not only do natural nut spreads taste better, they'll leave you and your body feeling great as well!.