Review: The Matlombe Lounge opening
Posted on 9 September 2016
A review of Matlombe Lounge restaurant, Johannesburg …
Matlombe lounge had their grand opening on September 3rd, unveiling a veg restaurant / music venue which is nestled just outside the heart of Jo'Burg and about 10 minutes away from Maboneng. As you enter there is a distinct clean and modern feel with the outdoor entrance area having low white lounges that sit on artificial turf, all while shaded by strategically cut yellow and white stretch material. The interior is equally suave, with glimmering lights, slim lined furniture, and a stage featuring the standard musical paraphernalia.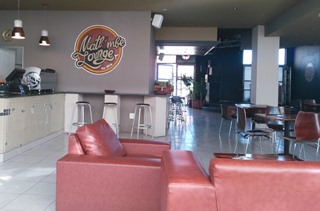 It was their big day and staff rushed around with last minute preparations, all while bass boomed from speakers and clients started to trickled in. One of the owners Mmabatho, a passionate high energy actress with big dreams, greeted my friend and I with her new menu. After pointing out vegan and vegetarian options, she went on to explain the health benefits of herbal teas, fresh smoothies and fruit juices which, they have on offer. Mmabatho is an absolute pleasure to be around and runs the establishment with her husband, further to promoting local talent and performing in a band together.
Once settled in, I decided to try the Supercharge smoothie, although it was orange it should have been a combination of dates, sesame seeds, banana, kale, coconut water and Spirulina. Still tasty but with whole blocks of ice floating around and a strong sunken spirulina flavour, I got the impression that they might need another blender.
That being said the food was fantastic, I ordered the simply divine breakfast that's modestly priced at R38.50, it's an all-day breakfast as the venue only opens at 11 am and I would definitely recommend it to anyone, at any time of day, and especially if you have a babalas. A delectable conglomeration of scrambled tofu, mushrooms, a Fry's braai sausage, grilled tomato and avo with rye toast on the side. It was missing a chickpea taco and zucchini which, were listed on the menu but I hadn't noticed and found the meal to be scrumptious, as it was.
My friend had the falafel, roast veg and avo tramezini – a flavoursome meal which is also reasonably priced at R35.00, served with a side salad, freshly cut chips and a sterling chilli sauce. Regrettably there was no avo.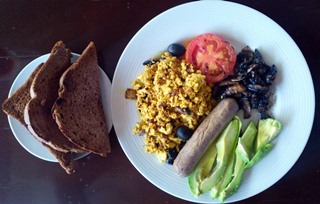 For desert, cake! All of Matlombe's cakes are vegan and a generous slice of carrot cake was provided, covered in a soft heavenly icing and sprinkled with dried cherries. It was undeniably delicious and a must try for any cake lover.
In spite of the mishaps the food is divine, we had fun, met great people and exchanged ideas, Matlombe Lounge is a place that I would like to show off to tourist friends. With a back exterior wall that is covered in bright graffiti, you get a real feel for Jozi and there is a sense of music comradeship, with musicians exchanging ideas and doing what they do best – playing.
Basically, if you are looking for a licensed restaurant with loud music that serves herbal teas and vegan cake, you have found your place, and I write this while listening to their Youtube channel

. It dawns on me, the tunes are as good as their food and I can honestly say that I look forward to re-visiting for a bit of Jazz and cake.
Matlombe Lounge, Shop 2 One Central Place, 30 Jeppe street, Newtown, Johannesburg, Gauteng. Tel.: Sifiso: +27 83 775 1033, Mmabatho: +27 83 757 0277. Open Mon-Sat.
Reviewed by Lesleigh Harnwell – Vegan SA