Review: a visit to Leafy Greens
Posted on 7 May 2016
A review of Leafy Greens restaurant and shop, Muldersdrift, near Johannesburg …
I was lucky enough to visit Leafy Greens this past weekend, set in the most beautiful gardens on the premises of Casalinga, just outside of Muldersdrift. Firstly, it's one of the most picturesque settings for a restaurant I've ever seen, very rustic with a wonderful, warm atmosphere. Owner and founder Antonia De Luca, a nutritionist, chef and entrepreneur in her own right, travelled the US for many months in order to find the inspiration to come back and open her own vegan restaurant.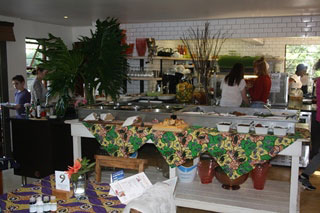 "Having grown up in a family with a passion for cooking, I have learnt a lot about Italian cuisine. With great wisdom and knowledge passed down through the generations as my foundation. When we started eating like this it was purely for our health, but it soon became a conscious effort to start living sustainably. All the answers we need are found in nature and we can once again bring about balance and find our true magic."
And the magic is apparent when you visit this fantastic little gem of a place…
As soon as I walked through the doors I felt as though I was in some sort of vegan heaven. The aromas that I was met with were out of this world and I started to get that excited 'kid in a candy store' feeling as I wandered into the delightful shop, which has just about everything vegan and animal friendly that you can ever imagine.
Antonia's own brand of fresh juices, smoothies and shots, plus various nut milks and many other delights are all made on site, have great variety, and are very well priced.
I was shown around by the manager, Lerato, who has a thorough knowledge of all the products, foods and produce and her love for working at the place is obvious! She talked me through the fabulous 5-day cleanse, which involves drinking all 6 varieties of their juices a day and can be done for weight loss or just a good old detox.
They serve up an amazing buffet of just about everything imaginable; tasty, imaginative and pretty looking dishes. Anyone who thinks vegans just eat grass needs to visit this place!
Never have I seen such inventive, unique dishes in my life, some raw and some cooked, but all mind blowing. From dinky little rice paper rolls, to raw falafel, lentil curry, spinach croquettes with home-made sweet chili sauce, gluten-free oven baked pizza, brown rice moussaka, mushroom zucchini curry, broccoli bake, home-made focaccia and every salad under the sun…they also have a mouth-watering A La Carte menu available, which is nothing short of amazing.
"WOW" is what my taste buds were screaming at me! Never have I tasted such superb, delicious yet incredibly healthy food. Eating at Leafy Greens really is an experience, and feels somewhere in between over indulging in everything your heart has ever desired but still being incredibly healthy; whilst being safe in the knowledge that it's all cruelty free.
Certainly sounds like heaven to me…
Thanks Leafy Greens

. I shall be back!
Leafy Greens, Plot 328, Rocky Ridge Road, Muldersdrift, Gauteng. Tel.: 082 882 7300.
Reviewed by Lisa Fine – Vegan SA