Product review – Africa Organics
Posted on 18 April 2016
Review written by Lisa J. Fine …
After searching furiously for a hair and body care product range in SA that is natural, vegan, cruelty free, affordable and easily accessible, I came across Africa Organics. Not only do their products look lovely and smell amazing, but they also tick all the right boxes where animals are concerned!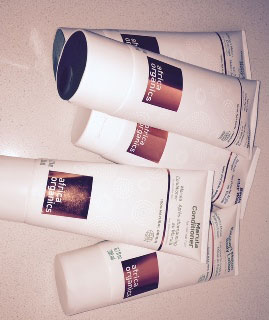 They are free from any animal products, aren't tested on animals, plus they are organic, natural, don't contain any nasty parabens, silicones or chemicals, are biodegradable and are accredited by all the right people, making them a safe choice for vegans. The brand is also approved by Phytotrade Africa, as well as Beauty without Cruelty and the Vegan Society.
Their mission is to bring you a 100% natural, certified organic hair and body care range that uses Africa's most powerful plant ingredients, while at the same time contributing to the well-being of Africa's rural communities and its plant biodiversity. Their packaging is also biodegradable.
Wow, what's not to love, right? Even before I tried their products I was pretty much in love and very excited to try out this awesome range. It tickled my fancy from the get go so I was hoping that the product would be as good as it sounded. And it really was!
I tested the Marula Shampoo and Conditioner – the conditioner takes a little getting used to but as explained on their website it doesn't have that artificial silky feel to it like silicones have. They advise not to concentrate on the feel of the product but rather use it for 2 weeks and concentrate on results. Normal brands strip the hair and then replace the natural oils with synthetics, whereas they use only plant oils to replace the natural oils on the hair. It is light, crisp and it's fresh fragrance is a mix of wild coconut and mint.
I also used the Boabab Clay Wash which is a clay that foams! It contains bentonite clay which acts as a mild exfoliant with its ability to draw toxins from the skin.
The Marula Shower Gel is a fresh, minty wash that'll perk you up in the morning! It contains marula oil to help maintain skin lipids. It has a lovely, surprising fresh scent and lathers really well.
The Kalahari Body Lotion smells fantastic and is a very light creme that won't leave you feeling greasy, but will deliver omega-6's from Kalahari melon. It's pH balanced and has inulin as a topical prebiotic. The formulation is self-preserving, so we don't need to add synthetic preservatives.
Find their whole range at Dischem amongst other stores, see their website for more details

.