Esse Sensitive
Posted on 28 April 2016
Review written by Josie Du Toit …
I had struggled to find a skincare product that isn't just great for my sensitive skin, but one that is also 100% vegan, using natural ingredients and endorsed by Beauty Without Cruelty. Esse exceeded all expectations and surprised me at the way it felt on my skin. When the product arrived, it looked like a high quality product, just from the way it is packaged in a glass amber presentation.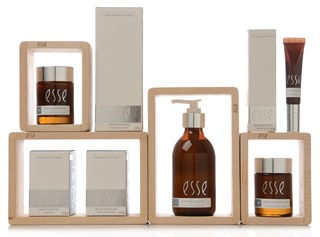 Esse Sensitive Cleanser – This cleanser feels so incredibly silky smooth like luxury on your skin, the smell is divine from all 3 products, all I can describe the smell as is heavenly and something you want more of. I wasn't worried to use it on sensitive areas such as around my eyes for make-up removal as it felt so gentle but worked well. The cleanser is gentle, creamy and feels amazing to sensitive skin and I immediately felt better after.
Esse Nourish Moisturiser – The nourishing cream I used every morning on my face, again with a silky, luxurious comforting feel as soon as I applied it. After using the moisturiser, my face at no point felt irritated as it usually does during the day. It is a great soothing cream to use on a daily basis.
Esse Hydro Moisturiser – This moisturiser contains prebiotics and hyaluronic acid, it instantly feels like it is repairing the skin cells, I could feel my skin soak up the moisture with no greasiness. It feels protective, giving a smooth and calm feel to the skin. The elasticity of my skin already felt stronger and younger after one application and I could see a noticeable difference in skin damage within the first month. I would definitely recommend this to people who are looking to repair their skin.
The Esse sensitive range I can describe as feeling like when you wake up in the morning on a cold day and are comforted by your cosy and soft duvet. Within just 2 days my skin no longer felt itchy or irritated but calm and smooth. All of these products have a delicious smell that I just can't get enough of!
I have now been using the products for 3 months and am hooked on the Esse range, I can honestly say it is the best skin care product I have tried. I would highly recommend it to others especially those that have sensitive skin where they can be sure to feel comforted in luxury from these incredible products.
Find Esse products online

or from health shops, beauty clinics and pharmacies in most major cities countrywide.