Product review – Monate chocolate
Posted on 23 March 2016
A review of Monate chocolate by Anandi Jooste …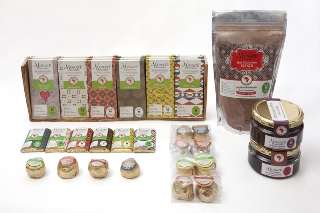 Monate Chocolate is the chocolate of the future! With just the right amount of sweet and creamy, Monate Chocolate brings temptation and healthy snacking together into the perfect bite of guilt free indulgence. Monate products are not only irresistible, but they are also organic, ethical, 100 percent vegan and made of raw ingredients. These super food treats are free of diary, wheat, gluten, refined sugar and preservatives and can therefore be enjoyed by everyone!
Monate Chocolatiers are true chocolate geniuses and their wide range of products include a delicious Himalayan Sea salt chocolate bar, Crunchy Peanut butter, Coconut and Scotch flavoured Truffles, Love Bonbons and convenient bite sized 20 gram mini bars. Also available is a chocolate spread which is ideal on toast for an easy guilt free breakfast to start the day off in a good mood! And who doesn't love a steaming cup of hot chocolate, Monate Hot Chocolate Elixir is the perfect purchase with Winter just around the corner.
My personal favourite are the flavoured raw truffles (especially the coconut truffles) with just the right amount of creamy and sweet and with a signature coconut taste. Coming a close second is Monate's Chocolate Pot filled with creamy, thick dark chocolate spread. Spread it thick on rye toast or rice cakes for a wholesome, rich taste which is sweet but not overly sweet. I also enjoyed the fine texture of the Himalayan Sea Salt bar and found that the hint of saltiness brought out the rich taste of the chocolate even more. And a classic, but still a winner, was the Monate 78% Cacao bar. Even though it is plain unflavoured chocolate, its fine texture and rich taste creates a feeling of pure indulgence and goes great with a cup of strong black coffee. The 20 grams mini bar is just enough per serving due to it's richness. What stood out for me with the Hot Chocolate Elixir was the perfect amount of sweetness and no after taste as with many sugar free products.
Monate hampers include a variety of the above mentioned products and make the perfect gift for loved ones (or to spoil yourself) and can be ordered on their website at www.monatechocolate.co.za

with nation wide delivery and free delivery in Jo'burg and Pretoria.
Monate Raw Artisan Superfood is a proudly South African product and means delicious in Sotho. Monate Chocolate is not only delicious, but is packed full of nutrition, anti-oxidants and essential minerals. Only organic, ethically sourced Cacao beans are used, making it is as good for you as it is for the environment! Monate is dedicated to saving the world with silliness, and chocolate and their passion can be seen in their beautiful packaging and delicious product. The only problem you will face is not being able to choose between all the tempting products available in the Monate range!