Brett Austin
Posted on 4 December 2015
An interview with author Brett Austin …
By Antoinette Maake
Vegan SA: Tell us about who you are and what you do?
Brett: My name is Brett Austin I have been DJ since I was 15 years old. After school I did a plumbing apprenticeship with my uncle Bob, but have just recently closed my business to follow my dream of supporting people to live their best lives. I share my story with them through my writing, talks and food.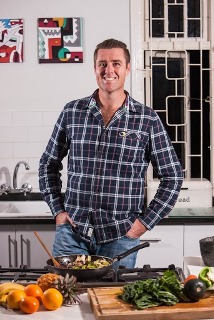 Vegan SA: When did you become vegan and why?
Brett: After watching a final episode of survivor in June of 2012 I saw how all the men and woman looked after just 41 days of being stranded on an island eating nothing more than fruit, veg and occasionally some meat, so I went to my fridge cleared everything out and the next day bought what I needed. It was 3 months later on my way to a festival that I next ate meat again. Boy did it not agree with me. I could feel the pain and suffering of the animal and the anxiety the animal lived with during its life. We are what we eat and if you ingest an animal that suffered in any way that suffering will show up in you in some way or form.
Vegan SA: Did the transition happen overnight?
Brett: It was literally overnight with meat. After a year I started eating cheese and occasionally had milk in a cappuccino, but of late I have gone back to being fully vegan as I have become more aware of the devastating facts behind the milk and cheese industry and I can't bear to know that I have had a part in supporting such an industry.
Vegan SA: What is your favourite place to shop for food?
Brett: I have no favourites as I buy different things from different places. Most of my veg etc. is from Woolies, preferably organic. Biscuit Mill for mushrooms, Fargos in Salt River for certain dried supplies (I never got the fuss about Atlas), Baps Shayona in Retreat for Indian supplies and curry. Some of what used to be my favourite delis now sell Foie Gras and refuse to stop so I won't support them anymore. Pity, I don't get to the city markets on Saturdays nearly as often as I would like.
Vegan SA: Tell us about what motivated you to write your first book?
Brett: I was shocked at how quickly the weight fell off my body after removing all the toxins and meat from my system. I feel amazing and every day I feel even better than the day before. I thought it only fair to share my story with all the people of this planet, as I wanted everyone to know how easy it is to lose weight, and become healthy, and be your best self without all the fads and pills that are so frequently advertised as a wonder drug or diet that will shed the pounds or make you feel better for a short while.
Vegan SA: What reception is your book receiving locally and internationally?
Brett: I have had a few reviews so far and all who have read the book have given me wonderful feedback. Internationally I have only just started to get people interested in marketing the book for me. Self-publishing has its draw backs but I could not allow publishers to take more than their value because my purpose in life is to help this beautiful planet transform. All the proceeds of "To all the people of the planet" will go back into cleaning up our planet one city at a time and creating gardens for people to be able to feed themselves.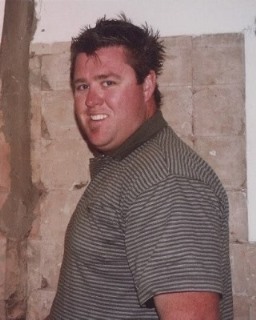 Vegan SA: There is a lot happening globally and in South Africa about eating/diet, what advice do you have for people who are trying to eat a healthy diet and how to maintain it?
Brett: Perseverance is 100% self-control! Always remember those words. I made stickers and put them up everywhere, on my fridge on my walls, I even stuck one on my rear view mirror of my car so that I was always seeing them. If we just persevere and practice self-control, we can achieve anything we want, no matter how big or small the task at hand.
Vegan SA: What is your favourite meal?
Brett: Every meal is my favourite meal. When I came to the understanding that everything "we eat becomes us", then preparing my meals became a spiritual practice, because I knew the fuel was going to feed every cell in my body. I cook from my heart and give thanks for the food I'm eating, and I always give thanks to all that supported the food to get to my plate too, the rain, the sun, Mother Earth and, most of all, the plants.
Vegan SA: How strict are you as a Vegan, do you eat honey, wear leather?
Brett: Occasionally I have some honey, I have used it to make my fat-burning chocolate in the past. But lately after giving up coffee I don't see the need to use it anymore and I have found a substitute for my fat burning chocolate. I don't wear leather anymore, I do have an old pair of work boots that I bought a few years ago before my awareness shifted to knowing the suffering of the animals.
Vegan SA: What is your favourite place to shop for food?
Brett: I support local markets now and shop for all organic foods whatever is in season and then get creative in my kitchen. I have also built myself a 50 square meter green house with a running river through it, and started an aquaponics system, so I now grow most of my own food. If we can put our own love into the food we grow, it responds to our body in such amazing ways, and benefits not only us but the entire planet.
Vegan SA: Best advice you can give for travelling vegans?
Brett: Mother Earth is our home so it does not matter where you are, this is our planet, we were born here and we have the right to be here. Be integerous with yourself, support the local farmer or market wherever you are. It is so easy to make good healthy food; just focus on that.
Vegan SA: What is your favourite place for eating out?
Brett: Everywhere I go I enjoy the food and at restaurants that don't offer vegan options, I help the waiter to convince the kitchen just as to how I like my food prepared. I always say to the waiter to tell the cook to make mine with love, and trust me, you can taste the difference.
Vegan SA: What obstacles have you faced in the past, and continue to face, by being vegan, and how did you overcome them?
Brett: I have had no obstacles at all. Being vegan for me has only increased my level of enjoyment on this beautiful planet, I have a better relationship with my family and friends and every person I encounter during my day.
Vegan SA: What improvements or changes would you most like to see in the vegan movement, both domestically and internationally, over the coming years?
Brett: Everything is perfect the way it is, the world and its people have to know their worst before they want and need to change. As each one of us changes we affect others around us so all I can say is it is up to each one of us to just be our best version of ourselves, and as others see us being that they will ask and want advice.
Vegan SA: What is your favourite meal and do you have a recipe that we could publish on our site?
Brett: Chopped Raw Broccoli and Rocket Salad
Vegan SA: What advice would you give to people want to make the switch to becoming vegan or vegetarian?
Brett: Buy my book ! hahaha lol. You know it is much easier than you think. Have a smoothie in the morning or fruit if you don't have a blender, snack on nuts during the day. For lunch make a salad. I have amazing recipes in my book for all meals. We are all amazing artists and creators, have fun in the kitchen and invite your spirit to guide you when preparing a meal. It will always be your best meal if you do that.
Vegan SA: Where can our readers buy a copy of your book?
Brett: Amazon.com for an ebook or, if you would like a hard copy, you can contact me and I'll give you one of the stores in your area, or via post.
Contact: www.facebook.com/brettaustinlive

, @miracleofveg (twitter #tatpotp), Tel.: +27 078 159 0913, or email brettaustinlive@gmail.com.
Visit the Vegan SA website for a list of famous South African and international vegans.

Posted in Category
Interviews
/
Comments Off

on Brett Austin
You can follow any responses to this entry through the
RSS 2.0
feed.