Product review – Lavish Natural Skincare Products
Posted on 9 July 2015
Introduction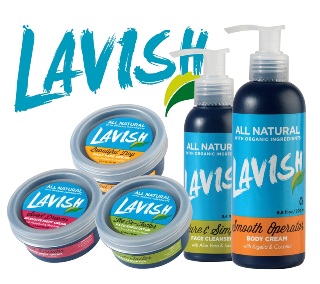 Lavish Natural Skincare is a range of "products that work for you, your skin and for the planet". Their ingredients are of a natural and organic origin and none are tested on animals or contain animal products. Their range includes an exfoliator, daily face cream, night cream, face cleanser and body cream.
[Visit our Facebook page to enter our Lavish Skincare product competion.]
My expectations
I had never actually heard of the Lavish Natural Skincare range before I was asked to do this review. But after looking online and receiving my brightly coloured products, I was very intrigued and couldn't wait to try them out!
My experience of the products
After using the Lavish face cleanser and daily face cream for a few days, I can honestly say that I really do love the way my skin feels. The cleanser contains aloe vera, lime essential oil, peppermint essential oil and buchu leaves, leaving the skin feeling clean and healthy due to their antiseptic and healing properties. The face cream is really nourishing and perfect for those with normal to really dry skin, as it contains antioxidant-rich baobab oil and healing rosehip. My skin feels soothed, clean and soft.
My overall impression
I really like the Lavish Natural Skincare range. Not only are the ingredients mostly organic, not tested on animals, don't contain animal products and exist in wonderful combinations, but the bottles are attractive with bright colours and are recyclable. These vegan products truly do leave your skin feeling luxurious and I would definitely recommend these to a friend.
Review written by Dominique Prinsloo