Product review – Harmless House
Posted on 25 July 2015
Harmless House Super Natural Surface Cleaner, Dishwashing Liquid & Laundry Gel …
The Super Natural cleaning range uses citrus based anti-bacterial properties that are effective disinfectants. The range is free from harmful chemicals, sulphates and phosphates. The products are 100% biodegradable, water course and septic tank friendly. They are cruelty-free certified by Beauty Without Cruelty South Africa.
SUPER NATURAL SURFACE CLEANER (1 lt)
Introduction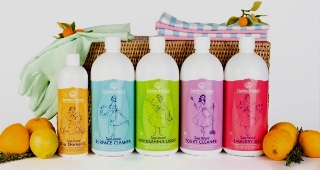 This surface cleaner can be used on all washable surfaces including floors, counters, stovetops etc.
My expectations
I was very eager to test this product on as many surfaces in my home as possible. The idea that it was free from harmful chemicals really appealed to me.
My experience of the products
It had a lovely smell and was gentle on my hands. It removed dirt and grime quite easily without excessive scrubbing or scouring.
My overall impression
The Super Natural Surface Cleaner is a versatile and effective cleaner which can be used throughout the home. I would recommend it to everyone.
SUPER NATURAL DISHWASHING LIQUID (1 lt)
Introduction
This dishwashing liquid effectively cleans and degreases dishes while being kind to your skin.
My expectations
I was not expecting much as I don't do dishes very often (lucky me!).
My experience of the products
The first thing I noticed was the lovely citrus smell. Because it has no chemical foaming agents, I knew not to expect much foam, but it still cleaned my dishes quite thoroughly. It was very gentle on my hands too.
My overall impression
It is a great alternative to other dishwashing liquids which are quite harsh on hands. It just takes a little while to get used to not having a lot of foam to work with.
SUPER NATURAL LAUNDRY GEL (1 lt)
Introduction
This laundry gel ensures brilliant results on coloured, colourfast and white laundry. It tackles a large variety of stains and has a great natural fragrance. It is ideal for hand as well as machine washing.
My expectations
I was not that sure how efficient it would be as I was used to using washing powders only.
My experience of the products
I only used this gel when I machine-washed. It had a clean and pleasant fragrance and adequately removed stains. Being a gel, it left no residue on the items of clothing, as sometimes happens with washing powders.
My overall impression
I am going to continue using this gel as I was completely satisfied with the results and would recommend it to everyone.
The Super Natural range of products are distributed by Harmless House

in South Africa, an online store that specialises in high quality organic, natural, cruelty-free certified and ethically sourced products for the whole family. They deliver straight to your door free of charge on most brands.
Review written by Samantha Jooste