Can there be any beauty without cruelty?
Posted on 22 May 2015
An interview with Toni Brockhoven, Beauty Without Cruelty National Chairperson and spokesperson …
By Antoinette Maake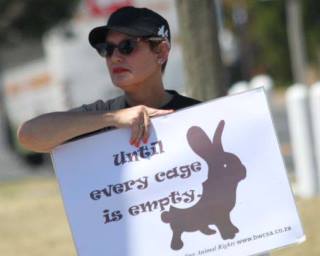 Vegan SA: Tell us about who you are and what you do?
Toni: I am a 55 year old Capetonian, loaded with enthusiasm, passion, a slight artistic bent and a disinclination to exercise, despite knowing it's good for me. I am currently national chairperson of Beauty Without Cruelty, an organisation I have supported in one form or another since my late teens. I have a family of 2 adopted rescue cats and a husband.
Vegan SA: When did you become vegan and why?
Toni: I had been Vegetarian for many years, but not committed, and so to my shame I fell off the wagon about 18 years ago. In July 2004 Carte Blanche did an expose on KFC and chickens, and immediately after the show I informed everyone I knew I was no longer eating land animals. While I knew then I was headed for veganism, it was more a case of getting family and friends used to the decision. By December that year I had eschewed sea-life and on May 26th 2005, my cupboards and conscience were cleared. So this year I celebrate 10 years of compassionate living, and like every vegan before me, I say loudly "I wish I had done it before".
Vegan SA: Did the transition happen overnight?
Toni: It took 10 months in total, but I simply made decisions about stopping certain things, i.e. consuming land animals, then I stopped eating sealife and then gave up eggs – once I had decided today was the day, that was that.
Vegan SA: What is your favourite place to shop for food?
Toni: I have no favourites as I buy different things from different places. Most of my veg etc. is from Woolies, preferably organic. Biscuit Mill for mushrooms, Fargos in Salt River for certain dried supplies (I never got the fuss about Atlas), Baps Shayona in Retreat for Indian supplies and curry. Some of what used to be my favourite delis now sell Foie Gras and refuse to stop so I won't support them anymore. Pity, I don't get to the city markets on Saturdays nearly as often as I would like.
Vegan SA: What is your favourite place for eating out?
Toni: It depends on what I want: Food Inn, Long Street for dahl and channa curry, Biesmiellah on Wale Street for veg roti, Maharaja Rondebosch for their soy mince samosas and chilli bites, Simply Asia for 408, brinjal and tofu, Plant (Plant, 8 Buiten Str, CBD) for the cheez toasty or mushroom rolls, Sophea Gallery in Simonstown for the unbeatable Sherpa Stew (oooooeer), Colcaccio for the green house salad with artichokes, Belathazar at the Waterfront (yes, you read right) for the onion blossom (have it veganised), Salero at the Waterfront for their vegetable linguine, Takumi in CBD for sushi.
Vegan SA: Tell us about Portobello Road Kind Biltong
Toni: I started making biltong for myself, initially using Rawlicious' recipe and then I tweaked it to get the flavour I wanted. It's almost inevitable that I will make recipe changes with everything. Then I gave some to a couple of friends, including carnists, who raved. So now it's available at Plant, Conscious 108 use it in their menu and Greenside / Uber Café in Greenside usually stock it. I have a couple of people around the country who buy in bulk directly from me, for their own use.
Vegan SA: What is your favourite meal and do you have a recipe that we could publish on our site?
Toni: My favourite meal depends on my mood, as seen above. I have several recipes of my own, you may publish, with pleasure.
Vegan SA: What obstacles have you faced in the past, and continue to face, by being vegan, and how did you overcome them?
Toni: The only annoyances have been non-vegans, and the usual comments, which I think is all too common. There have been very few restaurants not willing to accommodate me. So in a nutshell, there have been no obstacles.
Vegan SA: What improvements or changes would you most like to see in the vegan movement, both domestically and internationally, over the coming years?
Toni: I'd like to see recognition that veganism is not a fad, it's not about us, that compassion is no longer ridiculed, and naturally, that more and more people adopt a vegan lifestyle. There is not a single logical, intelligent reason that anyone can give for carnism.
Vegan SA: What advice would you give to people want to make the switch to becoming vegan or vegetarian?
Toni: Yes it takes courage to stand up for what you believe in, but you aren't alone. There are excellent Facebook groups, like African Vegan Outreach and Boere Vegans, where we encourage and help. Use the Beauty Without Cruelty humane guide for personal care and household cleaners. Google is your new best friend. Read labels. Don't beat yourself up if you slip up. As you change your wardrobe going forward, make the change to animal friendly choices. Read. Learn the facts. Play in the kitchen, and have fun.
Almost all of us are surrounded by carnist friends and family, so we have all been there or still are. You are tougher than you know. And most importantly, you know, deep down, you are doing the right thing. Be aware that no longer eating Mum's roast is taken as an implied criticism of her, when actually it has nothing to do with either of you. It's about you no longer willing to participate in the exploitation and intentional brutalisation of others for pleasure, profit or palate, and that is quite something.
Vegan SA: How can people support BWC?
Toni: As a non-profit organisation, Beauty Without Cruelty

is totally reliant on public financial support for our work defending animal rights on the public's behalf. Company membership is tax deductible, we request that people take out annual membership, make us a beneficiary on their MyVillage card, donate. Purchase our cookbook and merchandise. We also need support at events, be they fundraising or protests. Use the humane guide, we don't charge at all for endorsement or the use of the logo once endorsed, and it is the only way to ensure that products purchased are animal friendly. Every purchase of an endorsed product is one less sale for a questionable company.
Vegan SA: Is there any question that you would like to ask and respond to that we didn't ask you?
Toni: Beauty Without Cruelty celebrates 40 years of existence this year. Join us at Backsberg Estate Cellars, at the foothills of the Simonsberg Mountains for a glittering event to celebrate Beauty Without Cruelty's 40th anniversary.
The evening will begin with a wine-tasting. Backsberg Estate Cellars' award-winning wines are known not only for their structure and finesse, but also for their range and drinkability. Backsberg was chosen as one of the Top 100 Wineries of the Year by Wine and Spirits Magazine in New York. To complement their wines, a delectable selection of canapés by Wynand du Plessis, the youngest chef ever to represent South Africa at the Culinary World Cup, and trained at the prestigious Five Star Carlton Hotel in Johannesburg, will be served. To complete the experience, award-winning acoustic guitarist, and founder member of the popular African group Tananas, Steve Newman, will captivate and enthral you.
The Parlotones frontman, Kahn Morbee needs no introduction to South African audiences. In 1999, Kahn formed The Parlotones, a rock quartet which has attained a global following, from headlining the 20,000-seater Coca Cola Dome to the 2010 FIFA World Cup Kick-off Concert to an audience of a billion. They have achieved multi-platinum selling status and have received numerous awards. They are also spokespersons for both Live Earth and Earth Hour, along with, amongst others, Archbishop Emeritus Desmond Tutu. Kahn's first solo album, SALT was released in February 2015. Join Kahn for a concert that will rock your world!
Book online at http://activitybridge.com/book?activityid=3970

, contact Marianne on 082 481 3300, Laura on 084 772 1239, or email marscaro@gmail.com.
Visit the Vegan SA website for a list of famous South African and international vegans.

Posted in Category
Interviews
/
Comments Off

on Can there be any beauty without cruelty?
You can follow any responses to this entry through the
RSS 2.0
feed.