Product review – Sanctum hair care range
Posted on 16 April 2015
Sanctum is an Australian range which provides 100% natural, organic, vegan and cruelty-free certified bath and body care products. Sanctum's range of shampoos and conditioners, inspired by the elements of the sea, are specifically formulated to nurture your hair and protect it from environmental damage. The formulations are specifically crafted for Normal, Dry and Treated hair. I tried out the shampoo and conditioner for dry hair.
Introduction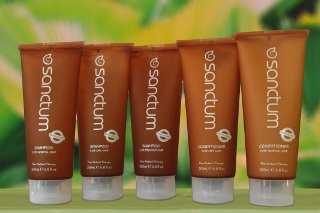 This pH balanced shampoo provides a gentle cleansing lather that helps protect and renew the hair, removing dirt and grime whilst retaining moisture. It is designed for daily use on hair that tends to be dry, brittle and unmanageable. The Jojoba oil helps smooth frizzy hair and control split ends.
The rich conditioner is formulated to protect and nourish dry hair. This repair conditioner aims to increase the natural healthy shine and movement of the hair.
My expectations
I was wary of trying another organic and vegan shampoo or conditioner, having not had the best results in the past two and a half years on my vegan journey. To be honest, I think finding a suitable vegan hair care range has proved to be most challenging, as I have very thick and long hair. Not many products have impressed me and therefore I was not expecting much from the Sanctum range either. I was expecting the shampoo not to provide much foam or lather and the conditioner to leave my hair feeling dry and tangled. But in this case I was pleasantly surprised!
My experience of the products
As I opened the bottle of shampoo, I was greeted with a refreshing whiff of aloe, chamomile and other organic extracts and oils. I absolutely loved the natural smell of the herbs. I then applied a generous amount of shampoo to my hair and started lathering it in. Anyone who has ever tried organic shampoo will know that it has a different 'feel' and can take some getting used to. This shampoo is similar, but once you find the right amount or balance that works on your hair, it is quite effective. I just have to emphasize once again that my hair is very long and thick so people with shorter hair might have a totally different experience to me.
I was very impressed with the conditioner too. It had the same natural smell which I loved. It was very easy to apply and it left my hair feeling soft and manageable and most importantly, without tangles.
My overall impression
I liked the shampoo, but I absolutely loved the conditioner! I would recommend that the Sanctum Shampoo always be used in conjunction with the Sanctum Conditioner. This is a wonderful range for anyone who is trying to go organic or cruelty free.
Sanctum products are distributed by Harmless House

in South Africa, an online store that specialises in high quality organic, natural, cruelty-free certified and ethically sourced products for the whole family. They deliver straight to your door free of charge on most brands.
Review written by Samantha Jooste