Blogging around the vegan world
Posted on 12 April 2015
An interview with vegan bloggers, Karen Louise Fletcher and Patrick Knight …
By Antoinette Maake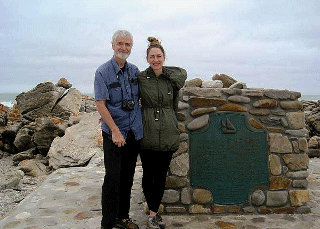 Vegan SA: Tell us about who you are and what you do?
Patrick and Karen: Patrick is an ex ship captain. He currently works as a marine consultant in the off-shore industry. He's an aspirant raw vegan chef, hoping to open an underground restaurant from home. Karen is an ex medical rep. She now manages properties and has an eco-fashion blog.
Vegan SA: When did you become vegan and why?
Patrick and Karen: Karen became vegetarian in 1980. Patrick was flexitarian from the day he met Karen (not so easy to eat a roast on your own). They both shifted to a vegan diet after visiting a dairy farm in the Netherlands in 2013. The realities of large scale animal produce farming were sufficient catalyst for them to make the change. In addition to ethical reasons, the couple have reaped massive health benefits. They feel much healthier, have more energy and now have normal cholesterol levels.
Vegan SA: Did the transition happen overnight?
Patrick and Karen: If only it were that easy! Eggs, cheese and milk were a big part of their diet. They had to find new ways to prepare old foods. And find substitute foods. Fellow vegans said they would get over cheese and milk. Initially they were not convinced.
But old habits do die. A person's palate can adapt. It's been a fun journey trying out different plant milks, learning to make veganaise and vegan cheezes. Out went old cookbooks and in came wonderful new vegan cookbooks. The couple have done a few raw food courses.
Vegan SA: What is your favourite meal? … and do you have a favourite recipe that we could publish on our site?
Patrick and Karen: Karen's vote is for Patrick's stir fries with Fry's strips. His raw vegan tarts are a sure-fire crowd pleaser. Patrick is also a whizz with his power blender (an item they never needed before and can't live without now). He whips up delicious plant protein packed smoothies in the mornings. Patrick thinks Karen is a genius when it comes to salads. She adds nuts, seeds, kale, leafy greens, edamame beans and quinoa for a protein punch. Visit Patrick's blog for recipes.
Vegan SA: What is your favourite place to shop for food?
Patrick and Karen: The couple realised they would have to change their shopping habits after many frustrating attempts to buy vegan foods. They believe that major supermarkets do not adequately cater for vegans or ethical consumers. They now shop at health food stores like Wellness Warehouse, food markets such as Biscuit Mill or Hope Street Market, and farmers markets such as Rodger's Fruiterers or Organic Zone. Komati Foods in Observatory are brilliant for a wide variety nuts, seeds and grains at bargain prices.
Woolworths are getting better at stocking organic, raw and vegan food. And Sea Point Spar stock a few non-dairy cheeses, milks, spreads and ice creams.
Vegan SA: Best advice you can give for travelling vegans?
Patrick and Karen: Keep bags of dried fruit and nuts in your backpack. Check out Happy Cow – www.happycow.net – it was the couple's best discovery for eating out. Happy Cow list vegan, vegetarian or veg friendly eateries and stockists all over the world. The reviews give helpful advice such as directions for hard to find places or speciality foods.
Vegan SA: What is your favourite place for eating out?
Patrick and Karen: Cape Town – Plant Vegan Café – corner Buiten and Loop streets in Cape Town is the couple's absolute favourite place to eat. Plant Café do a mix of vegan comfort food such as melted cheese toasts or tempeh bacon to power foods such a green juices and quinoa salads. They also have brilliant wines at great prices and they sell vegan foods.
Simply Asia make good curries with soy or tofu in lieu of meat. Kauai, Osumo and Nü are fabulous for food on the run.
Jozi – the couple have eaten at Conscious 108 and Greenside Café, both in Greenside, and were impressed.
Vegan SA: What obstacles have you faced in the past, and continue to face, by being vegan, and how did you overcome them?
Patrick and Karen: Eating out is a challenge. A person can eat pizza, pasta or risotto only so many times and then eating out becomes boring. Usually the couple have to ask for substitutions to get a vegan meal. Often resulting in extra costs or unwilling staff, which only compounds the negative experience eating out. The couple entertain at home or take their own food.
• Making food from scratch becomes a way of life since vegan options are simply not available. Patrick and Karen find it best to set aside an evening or a morning to make a batch of vegan cheeses, veggie burgers, hummus, muesli mix or pestos for the week. The up-side is by having control over ingredients, their food is free from preservatives and extra salt or sugar. They believe home-made food is far tastier than store-bought food.
• Most cookbooks and food magazines do not cater for vegans. On-line shopping is the only way to find decent vegan cookbooks. The couple would love to see magazines such as Cook Vegetarian, Vegetarian Living and Vegan Life available in South Africa (it's possible to download some veggie magazines). Veganomicon is their must-have book for new vegans. The Non Dairy Evolution has fool-proof recipes for substitute cheese and egg foods. Rawlicious and Easy Living Food are excellent raw vegan recipe books. The Vegetarian Flavour Bible is an aspirant chef's guide to flavour compatibility.
• Social media groups are helpful for connecting to other vegans both locally and internationally. Karen likes Cape Town Vegans on Facebook and reads recipes and tips from One Green Planet and Mind Body Green.
Vegan SA: What improvements or changes would you most like to see in the vegan movement, both domestically and internationally, over the coming years?
Patrick and Karen: Patrick and Karen were lucky to attend Vegfest in London 2014 and would love to see something similar in South Africa. The range of foods and products was incredible.
• Seeing one or more vegan options on restaurant menus would be a giant leap for vegans.
• Patrick and Karen wish supermarkets would start catering for conscious consumers.
• It would be wonderful if the perception of soya as a bad food could be debunked. Most people have no idea how to prepare it, which doesn't help. Veronika Powell MSc from Viva Health and Dr Justine Butler both campaign in favour of soya foods and their arguments are compelling.
Vegan SA: What advice would you give to people want to make the switch to becoming vegan or vegetarian?
Patrick and Karen: A person cannot drop meat, fish, eggs, cheese and milk and not replace them with equivalent plant foods. Doing so can only lead to poor health. Cooked animal protein is not always well assimilated by the human body, and it is acidic. Humans need to take in sufficient protein. Plants have a lot more protein than people realise. People need less protein than the average person is eating. Make a point of getting to know which foods and which combinations will provide adequate protein. There is a heap of information on the internet.
Vegan SA: Is there any question that you would like to ask and respond to that we didn't ask you?
Patrick and Karen: Karen and Patrick find family and friends struggle to come to terms with their diet. They voice fears over inviting them for a meal and they worry about being judged for eating meat. While the couple are 100% vegan at home – and never eat meat – they are willing to eat a meal that may contain animal foods when an awkward meal situation arises. They often invite people to join them at vegan friendly eateries and they entertain more.
Vegan SA: Where can people follow your blogs?
Patrick and Karen: www.meatfreeeveryday.blogspot.com. Patrick's blog started when people asked him what he ate since meeting Karen. He decided it was easier to share meals, ideas and recipes on a blog. Meat Free Everyday chronicles the couple's shift away from eggs, cheese and milk to vegan foods, and has a gallery of recipes.
Visit the Vegan SA website for a list of famous South African and international vegans.

Posted in Category
Interviews
/
Comments Off

on Blogging around the vegan world
You can follow any responses to this entry through the
RSS 2.0
feed.