Nutrition – Time for cocoa
Posted on 15 January 2015
… a regular nutrition series for vegans by Anastacia Sampson
The simple cocoa bean is the basis for a wide variety of chocolate products. Pure cocoa is quite bitter and unpleasant to eat, that is if you are accustomed to regular commercial chocolate.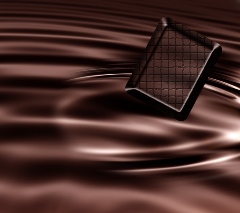 The Latin name for cocoa is Theobroma, and this word means, 'food of the gods'. There are over 20 species of theobroma.
Cocoa comes from and is native to South America where it is a valuable crop. It was also important and special in ancient South American cultures.
The love food
In the earliest known history of cocoa, the Mayans used it to create a ritual beverage. This beverage was drunk and shared during betrothal and marriage ceremonies. Consequently this is one of the original links of chocolate to romance! In modern times people often give gifts of chocolate as a romantic gesture or representation of affection or appreciation.
Today chocolate is a globally recognised food and people from numerous countries claim to be chocolate addicts or 'chocoholics'. The consumption of chocolate is huge as it is so widely enjoyed. As demand increases supply has been regulated by special cocoa associations.
Types of yummy mouth-watering chocolate
There are a great many chocolate products available. Some have nuts, raisins, candy or biscuits with them. There are chocolate bars, slabs, cakes, milkshakes, ice-cream, coated confectionery and much more. The different ways in the production of chocolate is as wide as one's creative spark. And there are several which are suitable for vegans too!
Regular white chocolate tends to have less cocoa and more milk. While brown chocolate has less cocoa and more milk than dark chocolate. Ideally the higher the percentage of cocoa, the healthier the chocolate is in its content of flavonoids.
What is cocoa made of?
Cocoa is extracted from cocoa beans. The bean is the dried and fully fermented fatty seed belonging to the tree, known as Theobroma cacao. It is from this bean that cocoa solids and cocoa butter are sourced. Cocoa trees thrive in hot, rainy tropical areas within 20° of latitude from the Equator. Cocoa beans are often roasted in factories. To make 1 kg of chocolate, you will need about 300 to 600 beans, depending on your desired cocoa content.
Why is cocoa healthy?
Cocoa is known for its flavonoid content. There are many studies showing how these flavonoids may have health benefits. Flavonoids in cocoa are also known as polyphenols, which are antioxidants. Specifically catechins, epicatechins, and procyandins are known to be in cocoa. Research shows these specific antioxidants being linked to reducing high blood pressure and lowering the tendency to form unwanted harmful blood clots. This means that cocoa may protect against strokes, heart attacks and other serious diseases.
Flavonoids degrade during cooking and alkalizing processes. Since chocolate production may involve both these processes, it explains why pure unaltered cocoa itself or high content cocoa products are superior to regular chocolate.
Is cocoa fattening?
With a high fat content, high cocoa content products are fattening and are best eaten in limited moderation. Regular brown and white chocolate produced with sugar is less healthy though, as refined sugar is known to contribute towards a range of ill health problems.
What is in cocoa?
As previously mentioned, cocoa is high in fat as it makes up about 50% of the cocoa bean. The specific type of fat in cocoa beans is saturated fatty acids (namely palmitic and stearic acids) and a mono-unsaturated acid known as oleic acid (the same as in olive oil). It is worth noting that pure cocoa does not raise cholesterol levels, but lower grade cocoa products, such as white chocolate, may raise cholesterol.
Although chocolate is high in simple sugars, cocoa itself is very low in sugar and contains more starch and fibre.
Theobromine is a substance also found in cocoa, which is a very mild stimulant and diuretic (increases the production of urine). Theobromine contributes to the 'feel good effect' we tend to experience after cocoa consumption. Note, theobromine can be toxic to animals such as dogs, cats, parrots and horses. Try not feed those pets any cocoa-containing foods!
Cocoa beans have a minor amount of caffeine compared to coffee and tea. Another ingredient in cocoa is phenylethylamin, which is a slight antidepressant and stimulant. Anyone sensitive to phenylamine may experience headaches or other symptoms after eating cocoa products.
Here comes some more good news! Cocoa and chocolate can increase the level of serotonine in the brain. Serotonine levels are often lower in people suffering from depression and PMS symptoms.
Cocoa beans also contribute nutritionally essential minerals and vitamins, including magnesium, calcium, iron, zinc, copper, potassium and manganese; along with vitamins A, B1, B2, B3, C, E and pantothenic acid.
Overall high cocoa content chocolates are health and worth consuming, but always in moderation. Too much of a good thing is a bad thing! The cocoa tree is simply a tree that has given us many dietary pleasures that could not be supplied by any other substitute.
Take care, Anastacia
Visit Vegan SA for more information on vegan nutrition.

Posted in Category
Vegan Nutrition
/
Comments Off

on Nutrition – Time for cocoa
You can follow any responses to this entry through the
RSS 2.0
feed.