Go natural or go home
Posted on 7 November 2014
Many people are sceptical about the efficacy of natural ailment care products. It seems they only try natural products as a 'last resort' or out of 'desperation' when pharmaceuticals don't seem to do the trick to keep symptoms under control.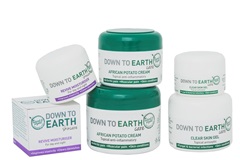 These people are more often than not, pleasantly surprised and never look back once they try the natural approach, after all, many pharmaceutical drugs and treatments are simply synthetic versions of active ingredients in plants and herbs that have been isolated and imitated. But it is often the whole plant, not just the active ingredient, which has the real beneficial action. The plant compounds work synergistically to stimulate the body's healing capacity. Plants and herbs have of course been used as natural treatments for thousands of years.
Personal care products are used daily by all of us, often without knowing what ingredients they contain. If you have a look at the ingredients list on the label of most mainstream personal care products, you will find a long list of synthetic chemicals, like parabens, phthalates and mineral oils that have shown to be harmful and have been linked to pre-mature ageing, allergies, infertility, cancer and much more. Our skin is our largest organ and can absorb as much as 60% of what we put on it, so it only makes sense to limit our exposure and to go natural.
It's not just about you. Pharmaceuticals and harmful chemicals in personal care products are being detected in water supplies, polluting our environment. We drink this water and use it to grow crops and feed livestock. These chemicals also end up in our oceans and in the fish we consume, creating a cycle of contamination.
Consumers are becoming more aware of and educated on these matters and are applying the precautionary principle, preferring to stay away from ingredients that are suspected to carry risk. This is one of the reasons why the natural and organic industry is growing rapidly. It is important to familiarise yourself with ingredients, to read the back of labels and to buy from stores and producers devoted to offering you only the best, pure products.
Natural products are made up completely of natural ingredients and if synthetic ingredients are used, they are used in very small amounts and are known to be safe. Natural products are manufactured with appropriate processes to maintain ingredient purity, use no animal testing in its development, use biodegradable ingredients and environmentally sensitive packaging. Natural products avoid any ingredients with a suspected human health risk. The ethos of the natural product producer is to be transparent and to fully disclose ingredients accurately and truthfully.
Marlize Nel
Down to Earth
Why not try a safe, effective, natural and organic Down to Earth product?
The Down to Earth product range includes:
• Revive Moisturiser – a nourishing and soothing day and night cream to minimise blemishes and improve skin tone
• Clear Skin Gel – a calming and cooling antiseptic gel for cuts, grazes, insect bites, pimples and cold sores
Down to Earth products are available at health shops, select pharmacies and online stores. See www.downtoearthcare.co.za

for outlets.