Nutrition – how to go creamy in a green way
Posted on 10 November 2014
… a regular nutrition series for vegans by Anastacia Sampson
For a truly healthy creamy fruit, there is only one and it is named the avocado pear. Avocados have been around for thousands of years, originating from South and Central America. Now they have spread and can be enjoyed across the world!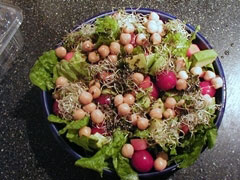 Avocado pears are great to buy when still hard and unripe; once they ripen they bruise easily and need to be handled with care and eaten within a short period. Ripening of avocado pears can be sped up by placing them in a brown paper bag. You will know it is ripe as the outer skin will turn darker and it will not be as hard and firm when you push it with a finger. The skin tends to be green or black. The inner flesh can range from green to slightly yellow as there are different varieties of avocado.
Try including avocado pear in your salads, not to add calories but to enhance the absorption of special nutrients found in salads. Avocado supports absorption of various essential fat-soluble anti-oxidants and fat-soluble vitamins. When toxins are fat-soluble, the role of fat-soluble antioxidants is pivotal to help ward off and repair damage to cells. You may be on a low calorie diet, just make sure you don't jeopardise your well-being for the sake of keeping away healthy fats.
Avocado is an ideal ingredient to use as a dip or spread. Mash avocado pear, add some fresh lemon drops and season with black pepper and a pinch of Himalayan salt. Alternatively herbs can be added to the mixture. Fresh lemon juice is perfect for helping to keep exposed avocado flesh from turning brown. Once you actually cut an avocado and want to save some for later use, it is best to tightly wrap it up in an airtight container.
Avocados are great for adding a touch of vegan creaminess to any meal. Often dairy cream or full cream milk is used in restaurant creamy soups but avocado pear is a much healthier alternative.
Avocado is best eaten uncooked as too much heat will damage some of its fatty contents. There are so many ways though to still add it to raw or cooked and heated foods. Avocado is versatile and is yummy as a pizza topping, as a garnish to main meals, and even in wraps!
'Avo as a quick snack by itself is also great. Cut half a ripe pear, remove the pip; lightly sprinkle over some pepper and a pinch of Himalayan salt. Mash gently with a fork and eat your half portion of creamy nourishing avocado right out of its skin. A tip for beauty treatments – avocado mash makes an excellent face mask!
Take care, Anastacia
Visit Vegan SA for more information on a healthy diets for vegans.

Posted in Category
Vegan Nutrition
/
Comments Off

on Nutrition – how to go creamy in a green way
You can follow any responses to this entry through the
RSS 2.0
feed.