Nutrition – Getting sweet with sweet potato
Posted on 17 September 2014
… a regular nutrition series for vegans by Anastacia Sampson
Although not a true potato, sweet potato is still rich in complex carbohydrates and comforting just like a real potato. Yet unlike potato it has a low GI (glycemic index) rating and is sweeter in taste.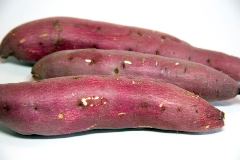 This vegetable originates from Central and South America, with evidence showing it has been eaten since prehistoric times.
Healthy skin from eating sweet potato
We know that beta-carotene is converted to vitamin A. Sweet potatoes are one food that contain exceptionally high amounts of beta-carotene. By eating this tuber we gain ample vitamin A, which is essential for clearer skin, strong connective tissue formation and stronger immune defence. Half a cup of cooked sweet potato exceeds our daily vitamin A requirements!
Vitamin C is another vitamin needed for strong skin, along with healthy gums, strong muscles and generally good maintenance of detoxification. A cup of cooked sweet potato delivers over half of our recommended daily allowance of vitamin C too!
A great tuber for improved well-being
Sweet potato may be of benefit when you suffer from inflammatory conditions, such as arthritis, allergies, coughs and asthma. Science has revealed that this vegetable contains special anti-inflammatory substances. Every day we experience stress, and stress reactions require vitamin B. More great news is that sweet potato supplies us with an assortment of vitamin B1, B2, B3, B5 and B6 in significant degrees.
Fibre intake protects against formation of high cholesterol, constipation, some types of cancer and diseases of the intestines. Once again sweet potato meets the bar and can be counted on for delivering that significant dose of high fibre. Some of the best about this nutritious food is that less than 100 calories will be gained from half a cup of cooked sweet potato. This truly is guilt-free sweet comforting super food!
Time to get inspirational and creative with sweet potato in our daily cooking
Cut up sweet potato into wedges. Then microwave or bake until soft for a yummy treat! For a sweeter treat, sprinkle over with cinnamon or berry sauce to taste. For a crispier and crunchier mouthful, cook for longer and until lightly brown… not too long as they really can become rock hard and tasteless if left too long unattended when cooking. This is a great healthy snack, even to be packed for lunch boxes.
Slice up sweet potato into strips. Brush over with olive oil and lightly sprinkle with salt and pepper. Then spread out the strips and bake on a baking tray, lined with parchment, until golden brown. This is a great alternative to regular potato French fries/chips.
Cut up sweet potato into wedges; lightly sprinkle with olive oil before roasting. After an about an hour of roasting, add to a bed of salad leafy greens. With cherry tomatoes, roasted cashew nuts and red bell peppers, this can be a super yummy nutritious salad main course or starter dish.
Mash potato can be oh so sweet! Just peel sweet potato skin off of several potatoes. Steam or boil. Then mash into a smooth texture. Add any spices or herbs for flavour. Note that white fleshed sweet potato is an ideal easily digestible nourishing comforting food compared to regular potato mash.
Thinly slice sweet potatoes, then lay on a baking tray lined with parchment, after having lightly brushed them with olive oil. Add a sprinkle of any desired spices or salt. Place in a preheated oven at 200 degrees Celsius and bake for 2 to 3 hours. This preparation creates some thin crunchy sweet potato crisps. These are perfect for holiday and weekend times for preparation and then snacking.
You can also add mashed sweet potato to pancakes for yummy healthy deserts! There are so many ways to use sweet potatoes and incorporate it into our diet, even for babies. For easy to digest nutritional goodness, cook and blend sweet potato into a puree for babies and use as a base for thicker and sweeter soups.
Take care, Anastacia
Visit Vegan SA for more information on a healthy eating.

Posted in Category
Vegan Nutrition
/
Comments Off

on Nutrition – Getting sweet with sweet potato
You can follow any responses to this entry through the
RSS 2.0
feed.