Protea Hill Farm's balsamic vinegars
Posted on 28 June 2014
Protea Hill Farm produces natural balsamic fruit-, herb-, seed- and flower blossom vinegars. These vinegars are not infused vinegars, no use of caramelized sugars or molasses, no artificial flavours or any chemical substances are added. The fruits are grown in the open and harvested only when full sun-ripened. They are unsprayed and untreated.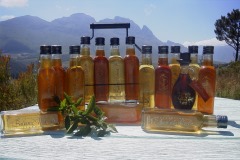 The balsamic vinegars are aged for years to reach their full aroma and taste. The older vinegars are over 12 years of age. They have an acidity of 6% and can be used in professional and household cooking. There are 23 different flavours to choose from, some of them are unique in the world. Enjoy these award winning South African balsamic vinegars, not only on salads but also on fruits, cheeses and vegetables.
You can find these products in South Africa at delicatessens, wine estates, Super Spars, pharmacies, leading restaurants and hotels, health shops, oil & vinegar specialists and markets.
Visit Vegan SA for more vegan dressings.

Posted in Category
South African Vegan News
/
Comments Off

on Protea Hill Farm's balsamic vinegars
You can follow any responses to this entry through the
RSS 2.0
feed.