New vegan cheeses at Fruit & Roots
Posted on 28 November 2013
Some good news for vegans and the dairy-intolerant, and any cheese lovers who fancy a gourmet treat! Launching their initial offering, Anstey's Artisan Vegan Foods (JHB) will bring to the table 2 hand-crafted cheeses that will delight the jaded palate.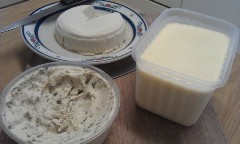 Born out of the frustration of finding only limited choice of vegan cheese in Johannesburg stores and health shops, Norman and Penny Anstey decided they'd had enough. Enough of imported mass produced factory- turned "plastic" and vegan schmeer that was heavily laden with preservatives with flavour to match.They were looking for something fresh,tasty, locally created and irresistable. And of course, vegan.
The results of their research and experimentation will be available at Fruits and Roots Health Store/Restaurant in Hobart Corner Shopping Centre, Bryanston on Thursday 28 November 2013, when the store's monthly "discount day" will be held.
Two cheeses will be on offer to start. A scrumptious herbed "cottage" cheese and a delectable Philadelphia-style creme cheese that is "Oh so melt-in-the-mouth". Completely vegan and suitable for the dairy intolerant too. If these two are well received, there is in development a hard cheese that will be gratable, meltable, and grillable. Possibly a strong flavoured cheddar type.
But wait-there's more!! Vegan BUTTER. Yes, completely free from dairy, animal fats and preservatives. And no hydrogenated vegetable oils. Yummee, just like 'real' butter.
Check www.fruitsandroots.co.za for opening times.

Posted in Category
South African Vegan News
/
Comments Off

on New vegan cheeses at Fruit & Roots
You can follow any responses to this entry through the
RSS 2.0
feed.