The Green Vegan – eco re-using tips part 2
Posted on 21 May 2012
… a regular eco-friendly feature by Terri Morris
Yes I recycle, but I also reuse. After my last feature I looked around my home and realised that there are more ideas I can share on how to reuse things, so here they are …
Jars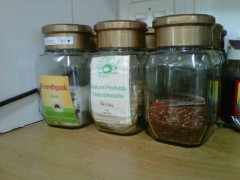 Wash your coffee, sauce or other jars and peel the labels and use them to store anything from tea bags, lentils, pencils, string, coins – just about anything can be stored in a glass jar.
If you get ones that "fit together" they can be a nice space saver too. I have my 12 favourite teas in old coffee jars – clip the name of the tea from its original cardboard packaging and display through the jar.
Wine bottles
Use rinsed wine bottles as dinner candle holders at your next party, a standard taper "Price's" candle fits
perfectly and who cares if the wax drips on it? Then you can layer different colour waxes for a pretty effect
and when your done scrape off wax and recycle the bottle with the rest of your glass.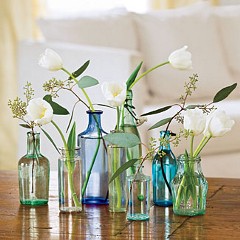 Glass bottles – other ideas
Do you have flowers blooming in your garden? Why not make yourself a bouquet and display them in a jar or bottle instead of a vase – a lovely rustic effect makes it more homey. Or buy a bunch of flowers and display one in a bottle of various heights throughout your home?
More green tips coming soon.