The Green Vegan – eco re-using tips part 1
Posted on 26 April 2012
… a regular eco-friendly feature by Terri Morris
While I recycle as best I can sorting bottles, cans, plastic and paper and taking them to the relevant skips at the local dump, sometimes I feel it's not enough.
There is a saying "one man's trash is another man's treasure" which I keep thinking about so have started looking for ways to reuse instead of recycle, and here are some of the latest findings:
Can Garden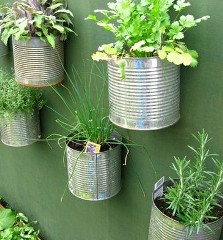 Peel the labels off your cans and wash well, poke a couple of holes in the bottom and put a light layer of pebbles in the bottom for drainage. Top up with soil and plant herbs either from seed or buy seedlings. These can be attached to the wall outside your kitchen for easy access to add to your vegan cooking and make great gifts!
You could use glass jars, plastic containers, just about anything in your recycling bin could be turned into a planter with some imagination. Perhaps you could paint them or glue on beads, buttons, gemstones just about anything with some imagination.
Hanger Frame
Do you have one of those metal space saver hangers lurking in your closet that you had to buy but never really use? Well here is a great creative idea to turn it into something wonderful you can hang on the wall and show off your precious moments.
It's really easy and only takes a few minutes – just slide the pegs it came with to stagger your photos and clip them up. Hang it on a hook or nail in the wall, and presto!
You could change it monthly or annually, or you could use it as a to-do or wish-list; the possibilities are almost endless.
More green tips coming soon.